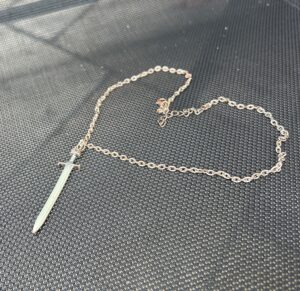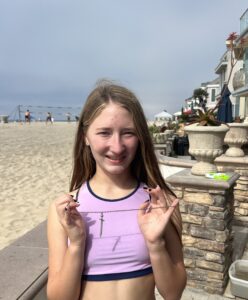 I can help you find your lost favorite jewelry using the best metal detecting equipment available. Call for assistance or information on how my service works.. Stan the Metal Detector Man .. Call or Text ..949-500-2136
*** Viviana was with her family at Newport Beach at vacation rental on the beach front. The second day of their stay, she got up early put on her favorite necklace and went straight out over the sand to look at the waves. It was probably somewhere close to a 40 yard run across the sand. After a few minutes of watching the waves and sunrise, she went back to the house to eat breakfast.
Inside the house she realized her favorite necklace and pendant was not on he neck. A search of the house was un successful. The necklace had to be in the sand. Her grandfather, Steve decided to get a metal detector to help her find her cherished piece of jewelry. He happen to find my contact information while scrolling through the internet to get a metal detector.
When I arrived, it was less than a couple hours since the loss occurred. Viviana showed me the straight path she ran out to look at the waves. Her foot prints were still visible. It didn't take long to grid search that area and the necklace was not found. I gave her the bad news as she saw me walking back to were I started the grid. I gave her ideas how to check the inside of the house as I approached the patio gate. Then, next to the step into the sand, I got a signal. BOOM! It was Viviana's Necklace. I believe she was standing there when I started the grid search as she described her path to view the waves.. 
Mobile metal detecting service available to promptly go to the site of your loss and find your lost sentimental jewelry.. Call or text ASAP … Stan .. 949-500-2136  .. "I WILL TRY ANYWHERE "