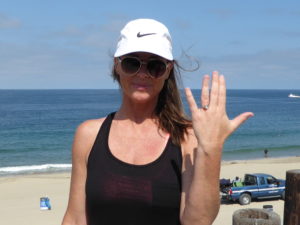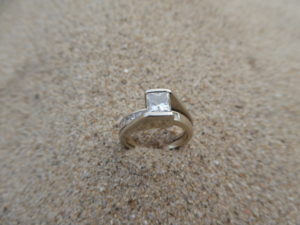 I received a call yesterday morning from Sara, about some rings that she had lost in the water the day before. She and her family had been at the beach for the day while vacationing from Minnesota. She told me that she lost the rings in the afternoon and when I looked at the tide charts, I could see the tide was still low, but on its way up. I said I could meet her there in 30 minutes, and we arranged to meet.
When I got to the beach, Sara showed me where she believed she lost the rings, and I began my search. I searched for about 30 minutes, when Sara came over and said her husband Tony (who was up on the hill overlooking the beach with their son) told her we needed to move about 50 feet to the South. I continued my search, but the tide was getting too high, and the waves were making it more difficult to search any deeper. I knew the tide was going to be a minus tide this morning at about 6:30 AM, so I told Sara, I would come back for a search at 5:00 AM. She asked if there was any chance of a recovery, and I told her I always have hope.
Well I got up at 4:00 AM and was on the beach at 5:00 AM. There was definitely a lot more sand to search, and I knew that if it was there I had a good chance of getting it. I could not search where Sara's husband had mentioned because at 5:00 AM in the dark there was a woman playing in the waves right in the exact area, so I chose to begin where Sara had originally shown me. I started, and began to work my way towards the spot of the loss, and when I drew near the woman left, which made it easier to search the area. Once I began in the area, I made a few passes, when I got a loud bang of a sound in my headphones. I dug, dumped the sand, kicked it around, I ran my coil over the sand, heard the bang in the headphones again, kicked that sand again, and then saw the rings, still together. The great help was that they were able to meet me at the beach the day before and show me exactly where the loss occurred. I got excited, put the rings in my pouch, and made my way home. I waited until a couple of hours later to send Sara the message, so she could sleep in and get some rest. I sent a picture of the rings, and she sent a text back of her unbelief and happiness. We met back at the beach about an hour later, and I was able to give Sara, Tony's token of his love and commitment to their union, given to her 12 years before. They were leaving for home tomorrow, and she had been worried the rings might be lost forever. What a great day!
If you lose your ring or other metal item of value, call as soon as possible. I will work hard, using the most up to date metal detectors, to help you find what you thought might never be found again. I search,  Beverly Hills, Hermosa Beach, Huntington Beach, Long Beach, Los Angeles, Malibu, Manhattan Beach, Newport Beach, Northridge, Pasadena, Rancho Palos Verdes, Redondo Beach, Santa Monica, Seal Beach, Simi Valley, Thousand Oaks, Torrance, Venice Beach, and all parks, yards, gardens, and ponds (to 5 foot depths) in all of Orange County, all of Los Angeles County, and Ventura County.