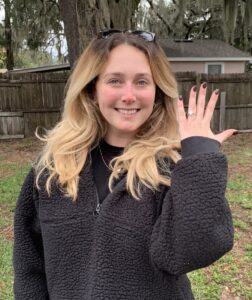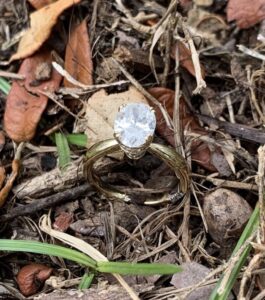 *Call now for prompt Metal Detecting Service…I can answer any questions about how this service works and we can determine the chances of finding your lost metallic item! Call or text– 321-363-6029
On Thanksgiving Day Tessa and her family were enjoying some fun and games in the backyard when her ring went flying! Here is the account in Tessa's own words. "On Thanksgiving Day I lost my engagement ring in my aunt's backyard while playing corn hole with my fiancee. Before I knew it my engagement ring flew off my finger. I originally thought it would be a matter of me looking around where we were playing and I would find it, but hours passed and even with the help of my family and neighbors we couldn't find my ring. The sun was going down and we even borrowed a metal detector from a friend and scoured the backyard. After hours of searching, nothing but bottle caps had turned up. We decided to start again when the sun came up the next day. We were hopeless and devastated. A family member said to me that there are professionals who can help you find a lost ring. I wasn't sure where to start but I knew it was worth a shot. First thing the next morning I did a Google search to try to find a solution. I searched "Metal detector service Orlando". With it being the day after Thanksgiving I wasn't sure if I would have much luck. I came across Mike McInroe of Theringfinders. Reading testimonials of other searches Mike completed made it seem to me that I had found the person who could help.
I called Mike's cell and he made it to my aunts house within an hour and a half! He asked me to tell him exactly what I was doing and where I was when it happened. He scanned the area and found my ring IN FIVE MINUTES! My family looked on in disbelief! My lost ring had been found! I felt myself get emotional and asked Mike if I could hug him. Before I knew it my aunt and mom were both hugging him as well! Even my uncle started tearing up–we were just overwhelmed with so many emotions at once. But most of all, pure happiness! Mike was nothing short of heaven sent. Our family cannot thank him enough for his services. If you have lost something that means something to you don't despair, give Mike a call". Tessa.
What an honor and privilege it has been to help Tessa and her family. I thank God for allowing my the opportunity to help them and to give us all one more thing to be thankful for during this Thanksgiving season!
Lost something and need help? Call or text me ASAP @ 321-363-6029!
Mike McInroe…thankful to be a member of theringfinders.com