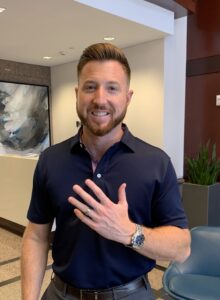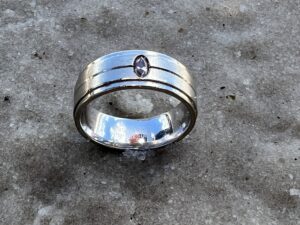 Josh and his family, along with some good friends, were enjoying a warm summer day on Lake Conway swimming and playing catch with the football when all of a sudden Josh noticed that his wedding ring was not on his finger. Their boat was anchored in waist deep water so they all tried walking and swimming back and forth trying desperately to feel or see Josh's ring but after an hour of absolutely no success they gave up their search. Josh's wife, Katrina, went on Google to see if there was possibly any type of metal detecting service that could help in this sort of situation and sure enough…theringfinders.com website came up and she gave me a call. As we talked, my main concern was how do you mark an exact location on the water so that later on I would be able to conduct a thorough search in the right area? I then asked Katrina to drop me a pin and to bury in the sandy lake bottom an empty soda can right where their boat was anchored. (One can also drop a bunch of coins as well as either method would help mark the exact area.)
My first attempt to search for Josh's lost wedding ring took me 5 and a half hours of grid searching back and forth in waist deep water trying to at least locate the buried can….but I was not able to find it. Two things entered my mind. The first being that maybe my calculations were off and I was not looking in the right area and the other thought was that maybe someone else had found the ring and the can.
My second attempt I was accompanied by my good friend and CEO/founder of theringfinders.com and together we expanded the original search area! After two hours of meticulous grid searching my friend Chris hollers that he found a buried aluminum can and not just one but two new looking cans…filled with sand! I immediately began making my way towards where the cans were buried and not 20 feet away I got another pull tab like signal reading and dug a scoop full of sand and muck and as I shook out the sand I could hear the distinct clunk, clunk of something heavy and there in the bottom was Josh's lost wedding ring…sparkling clean and shiny as the day it was lost!
Lost your valuable and need help? Call or text ASAP…321-363-6029
Mike McInroe….thankful to be a member of theringfinders.com