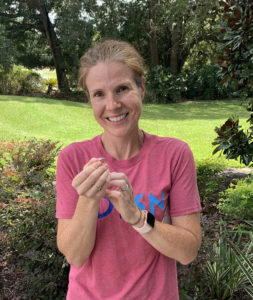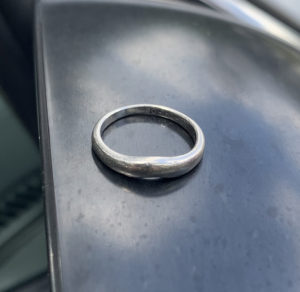 Marybeth was playing with her children in the back yard throwing water balloons and as she raised her hand to catch one that was thrown in her direction it hit her in the left palm just right and knocked her precious wedding ring right off of her finger. She actually felt her ring come off and immediately she began to look in the grass around her. Unfortunately the type of grass was our famous St. Augustine grass that is super thick and is known to swallow up rings and the like!
She spent a few hours on her hands and knees looking and feeling through the grass desperately hoping to find her lost ring. Realizing the futility of trying to spot it with her eyes she began thinking that maybe a metal detector would be the proper tool for the job. Her first thought was to see if there was somewhere that would rent her a metal detector for the day and after typing "Metal Detector Rental" on her phone….up popped "theringfinders.com" website and one of my stories!
Later that day I met Marybeth and she showed me the exact spot where she was standing and it only took a few swings of my Garrett AT Max metal detector and Bingo!!! What a privilege it was to help Marybeth find her lost ring!
Have you lost something and need my help? Call or text me ASAP….I am only a call away!
Mike McInroe….so thankful to be a member of theringfinders.com