Andrew's mother (Ann) contacted me recently in the hopes that a lost 14k white gold heirloom ring could be found. Andrew had lost the ring during an outside gym class session on some practice fields that amounted to the area of about 1-1/2 football fields.
That's a lot of area to cover when you're looking for an item about the size of a nickel. Obviously, an area like this is easier to cover and able to be covered very methodically if you can get a couple of people working a grid pattern. I contacted a friend (Travis) and we headed out to try and locate the ring. After about 4-1/2 hours of searching with no ring to show and a storm blowing in we made plans to come back another day to finish covering the area in hopes of being able to reunite the owner with their lost ring.
Andrew was very close with his grandmother and the ring had been passed down to him when his grandmother passed away in December. He wore the ring on his pinky finger to feel close to his grandmother. We knew he was very sad to have lost the ring and that it was such a sentimental item that we were trying to do everything we could to cover the area and locate his missing ring.
We made a return trip to finish covering the area and hopefully recover his missing ring for him. After a little over an hour of searching, we (Travis and I) were able to locate the ring!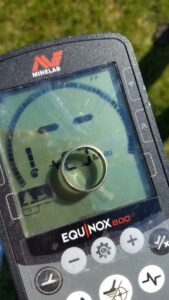 We messaged Andrew right away! Unfortunately, Andrew was out of town and was unable to be there for a photo and to take possession of his ring. He did however call his mother, who was more than happy to come down and accept the ring on his behalf! Knowing that there had been more than two dozen people walking around trying to locate the item prior to us searching, and numerous sports practice sessions, Andrew's mother thought that it was a miracle that we were even able to locate his ring. She had warned him that wearing his grandmother's ring could result in it being lost, as was the case, but it has now been located and returned to it's rightful owner! It has been put up so that this sentimental family heirloom will not be lost again. A needle in a haystack really can be found! Another ring returned, another successful search thanks to teamwork, and another happy ending! We were very glad to see the ring turn up and to see it returned!
On a side note Andrew was very glad to have found TheRingFinders service online and says he would recommend the service to anyone!