I was called by a local resident Ed with an unusual request to locate a buried bread box ftom 35+ years ago.
Ed, his twin Brother Ed and longtime Childhood Friend James buried items in a Bread Box time capsule in the backyard around 1985-1988.
This was absolute priceless and hearing the guesses of what they thought they all buried!
My Minelab MANTICORE metal detector nicknamed 'Betty Beast' found this treasure in less than 10 minutes as the boys remembered the general location!
The bread box amazingly stood the test of time!!
This was an awesome adventure to see the excitement of "what did we put in the bread box"!
Unfortunately, the video of pulling the lost treasures out was deleted.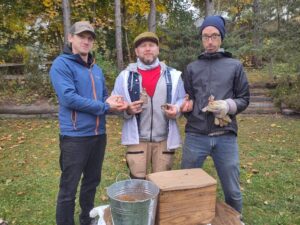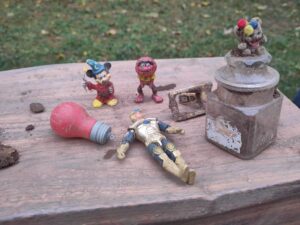 Items inculded Mickey Mouse, Captain Power, Sesame Street Elmo, red plastic light bulb likely filled with powdered candy, glass teddy bear topped glass jar and a belt buckle with the letter "B" for Bob! The belt portion was in pieces!
Check out the video of this adventure;
Timeless treasure adventure for 3 lifelong childhood friends! PRICELESS
#timecapsule #childhoodsdventures #buriedtreasure #treasurehunting #lifelongfriends #metaldetecting #minelabdetecting #minelabmaticore #bettybeast #ontarioringfinder #theringfindersdotcom #erin #erinontario #wellingtoncounty #mickeymouse #elmo #theringfindersdotcom #pinkpowerally #ontario #pinkpowerally #treasurehunter