Chris Turner- Metal Detecting Specialist… Call ASAP  or Text   778-838-3463
Well sometimes you find the ring quickly and other times it could take days. My last search was for a ring that was thrown out of anger and I spent 4 days and a total of 21 hours and no luck! I hate that result because it should be there? I believe I did my best but sometimes you just can't find them for whatever unknown reason may be a squirrel, maybe a bird, maybe superhuman strength, and the ring went onto the road. Just to let you guys know I don't always find everything I'm looking for, but I don't give up easily.
Yesterday I got a phone call from a young man he said his friend lost his gold ring over his balcony down a bit of a ravine and no one could find it. He gave me the information and some details, then he connected me with his friend, the young man told me it was a custom-made gold ring with diamonds that he had for a very short time. I can sense his urgency and even though it was 5 PM rush-hour I jumped into my car and drove an hour and 30 minutes to Mission where he lived to help him find his lost ring.
When I arrived I met Terry and we discussed the search, I could see where he and his friends were searching with a metal detector but had no luck, it was just starting to get dark so I turned on my headlights and off to work I went. Strangely the search area was very similar to the last search that took me four days with no luck, uneven surfaces and lots of Ivy makes it extremely difficult.
After approximately 40 minutes and moving some logs and branches I received a very good signal and to my delight, I caught a glimpse of his beautiful custom gold ring! I was extremely excited and started packing up and climbing up the ravine, when I got to the top where I was putting down my equipment Terry drove up to the driveway, I didn't know he had already gone and came back. When he got close I told him I needed to go get some more equipment because of the harsh terrain, then I held up the ring in front of him. I have the best job in the world I get to make people smile!
Terry was very happy and he was very kind with a generous reward for helping him find his recently made custom gold ring. Thank you, Terry, It was an honor to find that beautiful ring for you, and thank you for trusting me to search for it.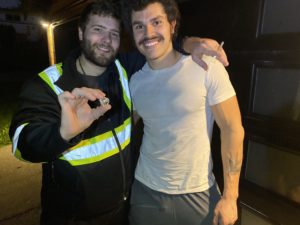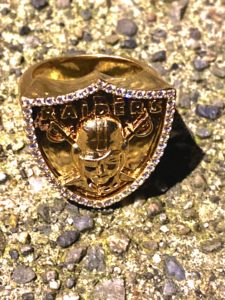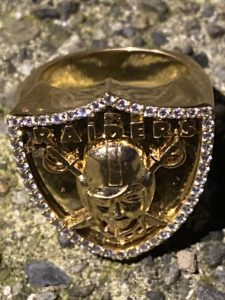 Thank you for reading my blog, please tell your friends about TheRingFinders.com
I love my job! It's the best job in the world!!!
Watch the video of the search below…