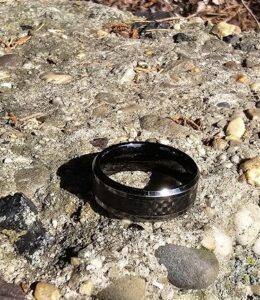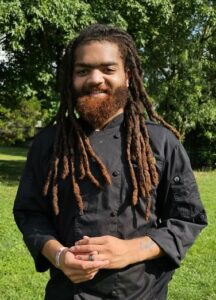 I woke up to an email from Rickey. It said that he lost his wedding ring on Sunday while playing basketball. I wrote back, and he called me. We set up to do a search later that day after work. 
We met at the courts, and he explained that he put his phone under his mother's chair and put his ring on top of the phone. This was in the grass, which was 4 -5 inches long and thick. The ring is black & silver titanium. He said his 2-year-old son picked up the phone to give it to his daddy. He said he spent about 4 hours looking for it but was giving up hope that it would be found. 
He showed me the area that he thought his mom's chair was in. I said I would start searching a little farther away and work my way to where he thought it was. Being around a basketball court, there were a lot of metal objects in the area. I was looking for a surface sound. I could tell there were a lot of coins, bottle caps & pull tabs around. I will go back another time to clean out the coins. 
It only took about 10 minutes for me to get the sound I was looking for. I bent down and spread the grass to see his ring. I picked it up and showed him. The look on his face was priceless. He told me he had been in the dog house since losing the ring. Hopefully, this will make things better. 
I love my hobby!!