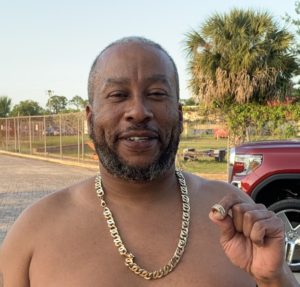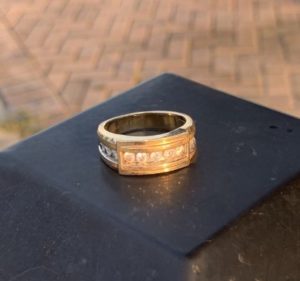 Peyton and his wife were enjoying a beautiful sunny day on Fairview Lake and as he jumped off of his boat and into the shallow water he felt his gold wedding ring slip off of his finger. After 27 years of marriage and having already lost one of his wedding rings years ago he was stunned that here it was happening again. After feeling around in the sand and mud he gave up and decided to come back and look for it again with a mask and hookah dive system and a small hand held waterproof metal detector. He also was able to mark the area where he was anchored on his boats GPS system making it much easier to pinpoint the exact area, which is so, so important!
Peyton returned the next day and searched for a couple of hours but was unsuccessful in finding his lost gold ring. Later that evening as he was searching on line to buy a full size waterproof metal detector he came across theringfinders.com web site and found my name. We made arrangements to meet later on that day and I figured if he marked the area it would make the ring much easier to locate. Peyton was waiting in his boat when I arrived and as soon as I loaded all my gear we were off to the other side of the lake. There was a fairly stiff breeze and after getting the anchors set I jumped into the water and with Peyton guiding me I placed four PVC poles around the area where he figured he lost his ring. Usually a large gold ring will give me certain numbers on my waterproof Garrett AT Max metal detector so I concentrated on any signal that read even close to those numbers. I dug a number of nickels, pull tabs and other assorted targets and as I was coming close to finishing up the 2500 square foot area I asked Peyton to think about what direction to expand my search area….and he felt confident it was in the general area that I was finishing up. And sure enough as I was on my last grid line I got a clean, solid, mid-tone signal and as I dumped out my scoop onto my floating sifter…there shining bright and beautiful in the evening sun was Peyton's lost gold wedding ring! How I thank God for allowing me to find and return Peyton's lost ring and to be a part of seeing such joy and relief on his face. And thank you Peyton for calling me and for giving me that opportunity!
Maybe you have lost something precious and valuable and need my help?!! Call or text me ASAP!
Mike McInroe….grateful to be a member of theringfinders.com