We got a call from a mom who was so upset, her daughter had been at a Labor Day Swim party at Cedar Creek Lake, and the group of teenagers decided to take a midnight swim.  While sitting on the swim platform of the ski boat tied off at the dock.  A boy reached up and grabbed her hand and pulled her into the water.  As Alina was going under she her grandmother's ring slid off.  She screamed and all of her friends tried searching for the ring. The water was about 5 feet deep with ZERO Visibility.
She then had to call her mother in tears and tell her that Grandma's ring was gone.
I fully believe that Mom was more upset than the daughter.  Mom calls us and we set a time to come out to the lake 4 days after the loss.  The drive was 2 hours, but the subdivision was beautiful and the water was like glass… BUT BUT BUT the dock was a single dock that pitchforked out into 4 more docks and the daughter was not completely sure which dock they had been swimming on since it was dark.
I began my search using my ATPro, and water scoop.  The bottoms were 18inches of mush, like wet mash potatoes.  I began clearing all the normal junk.  Soda & Beer cans, nails, and junk.  After 4 hours of going over and over and increasing my search grid area with every pass.  I was about to call it quits, the mom had come over and said she understood I had gone above and beyond in my search and understood if I need to call it.
I said I wanted to do one more pass, I had one signal that was funky and I just wanted to pull it out to be sure I would have no regrets in my search.  I made my last scoop and nearly could not lift the 30 pounds of muck, had to use my hand to squish the much through my fingers and suddenly I saw the glint of a ring.
I called the daughter and the mom over and had them explain one more time what happened and then I said… "I have a question for you ….. "Does it look like this?"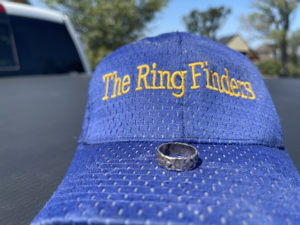 And screams and tears began to flow… mom and daughter hugged and cried tears of joy.
Another successful find for the Dallas Ring Finders.