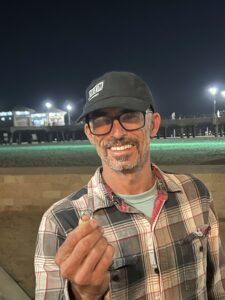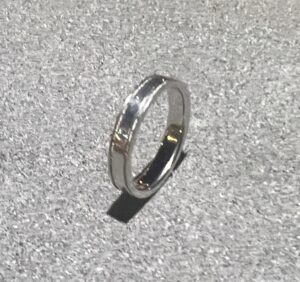 I can help you now, if you lost something where a metal detector can be used. Call or Text Stan the Metal Detector Man .. 949-500-2136
*** Che is visiting Huntington Beach from Puerto Rico. He was making surf movies on the south side of Huntington Beach Pier. His son was going out with his surfboard for a photo shoot and handed Che his platinum / diamond wedding band to keep safe. 
It was just before sunset when they finished the photo shoot. They walked off the beach to the parking lot. That's when Che's son asked for the ring. It had slipped off his dad's finger, somewhere between the waterline and the parking lot. ( more than 150 yards )
A call to me at 8:30pm let us set up a meeting at the location where he had set up his camera tripod.. This is where he had spent the most time and the best place to start before the tide comes in. After a few minutes I got a great signal from something metal in the sand. A quick scoop in the sand revealed the precious and very sentimental platinum wedding band. 
Che was very relieved and happy to have his son's ring to give back. Needless to say he was feeling guilty that he had lost the ring. Now he is the hero for getting a metal detector specialist to find the important ring.
Available to help you now, I can answer any questions you have about how this service works.. "I WILL TRY ANYWHERE "