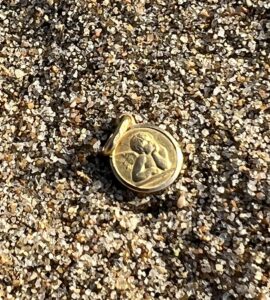 If you've lost anything in the sand call Stan the Metal Detector Man ..  949-500-2136
*** Anna was on the beach with her husband and two small children. When the picked up her young son, she inadvertently snagged his necklace braking it. She salvaged the gold chain but the very small gold pendant disappeared into the sand.
The loss occurred a short distance from where I live  but I was an hour away on another search on the other side of town. They said they would be on the beach for a couple more hours, so we set up to meet later in the afternoon. 
Traffic was cooperating and parking was easy to get me there before they had to leave. I was glad to have my high frequency metal detector with me which is a must for finding micro small jewelry. Anna had marked the spot with a stick. She also showed me an identical pendant which she also wears. 
A short time later I got a very short but solid signal on my metal detector. It took about five or six attempts with my sand scoop to retrieve the pendant as it kept falling through the larger holes in the scoop. Anna and her husband were totally surprised and expressed their joy and gratitude for my help. 
I am available to help you now.. I WILL TRY ANYWHERE .. For prompt service call .. Stan .. 949-500-2236