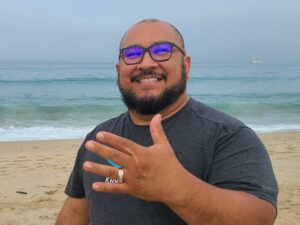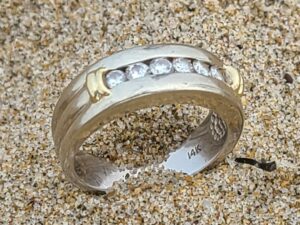 Steve's Emergency Metal Detecting Service For You if you lost a ring or something precious to you. Please don't wait until tomorrow, time will work against you, please CALL AS SOON AS POSSIBLE, CALL NOW!  310-953-5268
Eric called having lost his wedding ring the day before, hoping I would be able to find it for him. When he told me the beach he had lost it at, I told him that this was one of the cleanest beaches in the Southern California area because the county cleans the beach daily with very good machines. I could tell he needed closure, and we agreed to meet that day.
When I got there Eric met me and we walked out to the area he believed he lost the ring. As we walked out the sand was smooth as could be from the machines going over the sand that morning which wasn't a good sign. We got to the spot which was near the slope to the water, and there was a strip of about 1 to 2 feet of sand that was untouched by the machine. I began my search in the area he showed me which was smooth, but worked the untouched area as well. Low and behold, in that small section of untouched sand I found Eric's ring. I be honest, it surprised the both of us. What a happy reunion.
Don't let the County beach cleaning machines take your lost valuable, call as soon as possible! I will work hard, using the most up to date metal detectors, to help you find what you thought might never be found again. I search, Beverly Hills, Hermosa Beach, Huntington Beach, Long Beach, Los Angeles, Malibu, Manhattan Beach, Newport Beach, Northridge, Pasadena, Redondo Beach, Santa Monica, Seal Beach, Simi Valley, Thousand Oaks, Torrance, Venice Beach, Zuma Beach, and all parks, yards, gardens, and ponds (to 5 foot depths) in all of Orange County, all of Los Angeles County, Southern California, and Ventura County.
CALL AS SOON AS POSSIBLE, CALL NOW! 310-953-5268