Brian Rudolph, Lost Item Recovery Specialist (Land, Water, Sand, Snow, Leaves, Cliffs, Houses & Vehicles) Will Find Your Lost Keepsake! Call ASAP (301) 466-8644!
Howard was playing with his boys in the backyard of their house when his 10 karat yellow gold family heirloom diamond ring flew off of his pinky finger when one of his boys bumped into Howard's hand.
This ring (which he inherited 2 years ago from his parents – once owned and worn by his late grandfather who passed away nearly 20 years ago) meant everything to Howard.
The family searched the grass for a couple of hours, but all of their efforts led to no avail. The very handsome yellow gold and diamond ring could not be found anywhere on the back lawn.
At some point that same afternoon, Howard had the wisdom within to search the internet for some metal detecting help. He found the elite international directory of metal detectorists called THE RING FINDERS. That is when he was able to locate my services and immediately gave me a call for help.
Early the next morning, at 6:00 a.m., I drove to Accokeek, Maryland with the mission in mind to recover and return Howard's very sentimental keepsake. After showing me the approximate location of where he was standing when the ring flew off of his finger, the two of us asked the Lord to assist me in being able to help my desperate client recover his lost ring. Then, I then began to metal detect the very thick grass before me.
Within a few minutes, I hit a very strong signal that I clearly identified as most likely being Howard's late grandfather's gold and diamond ring! I knelt down in the grass, took my pinpointer out, and carefully inspected the area deep below the thick blades of grass. There it was! I found it! Howard's 10 karat yellow gold halo was a beautiful sight below the grass line!
Howard could not have been more grateful for the work that I did to bring his favorite piece of jewelry (besides his wedding band) back to his pinky finger! My early morning mission was fully accomplished and my client and I took a moment to thank the Lord for helping me with my metal detecting skills to help my new friend Howard recover his very handsome family heirloom ring!
SUBSCRIBE TO BRIAN'S YOUTUBE CHANNEL TO VIEW THIS SEARCH VIDEO!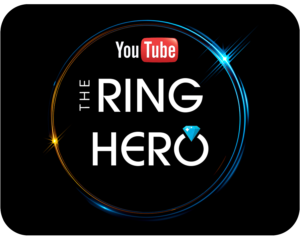 To receive a NOTIFICATION letting you know when the video is uploaded to YOUTUBE: go to YOUTUBE by CLICKING THE LINK BELOW or OPEN your YOUTUBE APP on your device, go to the SEARCH BAR, type: THE RING HERO, click SUBSCRIBE and lastly, CLICK ON THE "BELL" to receive NOTIFICATIONS when this latest search video is available to view! 
BRIAN'S YOUTUBE CHANNEL LINK: 
https://www.youtube.com/channel/UCmcn09QqWhHrj-7SGqlUBJQ
CALL BRIAN RUDOLPH WITH THE RING FINDERS AT (301) 466-8644!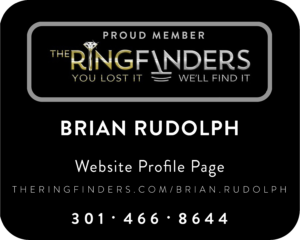 VISIT THE RING FINDER'S WEBSITE TO READ MORE OF BRIAN'S SUCCESSFUL SEARCH STORIES at:
TheRingFinders.com/Brian.Rudolph/
HE WILL RETURN TO YOU WHAT HAS BEEN LOST!
VISIT BRIAN'S BUSINESS WEBSITE FOR ADDITIONAL SERVICES, STORIES AND INFORMATION AT: www.MetalDetectingAdventures.net