Vancouver Ring Finder Chris Turner- Ring Recovery Specialist…Lost your ring?… Metal Detecting Service/Call ASAP  Anytime   778-838-3463
Why rent a metal detector when you can hire a metal detecting specialist…
I recieved a call from a young man who told me he had lost his wedding ring on the side of the street possibly in the snow. He was inquiring about my services, he told me he had rented a metal detector and was going back to look for it,  I just said when you're done and if you can't find it, call me and I'll be happy to come out and find it for you. He said he looked for close to four hours the day before, and he would put it away and wait for me to come out as he was pretty much done with the rental detector.
I adjusted my day switched a search over and headed to his location as it was more important because it was in a public area where somebody may be able to find it before I got there, even though there's snow, it could've landed on the sidewalk or road for anyone to see. When I got there, I met William and he told me his feelings on where the ring should've been and I could see his spent a lot of time searching in the area as the snow was almost completely melted where he had been looking.
He had to go back to his place so I started to search and just before I got going a young lady stopped with her kids and asked me if that was a metal detector. I said yes and I was out there looking for someone who had lost their wedding. She said do you make house calls and I said absolutely, she told me that her husband had just lost his wedding band the night before making a snowman for his kids in the backyard. I told her that once I was done finding this ring I would head on over to her place to find her husband's ring.
Back to Williams lost ring…After 20 minutes of grid searching I found the ring in an area where he did not look, it few backwards quite a distance into a hedge where it wedged into the leaves and dirt hidden from view. It was so nice to surprise him with his ring when he came back, and it was a beautiful ring with mountains and a diamond for the sun or stars very unique… He was such a nice young man, and loved his wife so much. It was such an honour as they all are to be able to find and reconnect these people with these beautiful and sentimental items.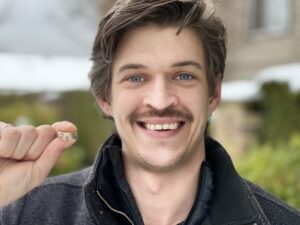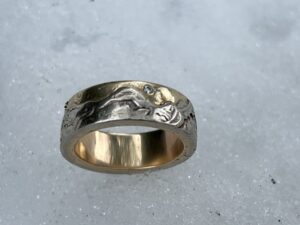 Vancouver Ring Finder Chris Turner- Ring Recovery Specialist…Lost your ring?… Metal Detecting Service/Call ASAP  Anytime   778-838-3463 I have the best job in the world, I love helping people more than anything I've ever done in my lifetime. I get to make people smile, I get to hear their stories of what their ring/lost items mean to them and how happy it makes them feel when I find it.