Brian Rudolph, Lost Item Recovery Specialist (Land, Water, Sand, Snow, Leaves, Cliffs, Houses & Vehicles) Will Find Your Lost Keepsake! Call ASAP (301) 466-8644!
Victoria and Tyler were hanging on their anniversary out by their children's private school soccer field while watching one of their daughters play sports amongst the other children. Because it was such a special day for the couple, the two of them took pictures with their phones during the time that they were at the school grounds.
At some point, Victoria realized that she no longer had her beloved 14 karat rose gold and half infinity style diamond wedding band on her finger. The couple searched desperately all around the grassy field where Victoria played with her family, as well as looked all over the wood chip covered tot lot area. Sadly, the ring was nowhere to be found. It was extremely depressing for both Victoria and Tyler knowing that it was their special anniversary celebration day.
In addition to the family searching for the sentimental keepsake, there were about 20 or 30 children and adults looking all over the private school grounds with the hope that the very special piece of jewelry would show up. Even a metal detectorist who lived in the area, came out to see if he could find Victoria's wedding band. Though he was not able to find the ring, he remembered referring another couple to me when they lost their ring and the fellow highly recommended my ring finding services.
After talking with Victoria regarding the loss of her irreplaceable rose gold and diamond wedding band, we set up a time for me to come out and meet up with Tyler so you could show me all of the places where Victoria had moved about behind the school four days earlier.
I am so excited to share that after 5 minutes of searching for the lost ring, I successfully recovered the special keepsake over by the soccer field. Well I did my metal detecting, about fifteen little private school kids watched as I conducted the search. I could not have been more happy for Victoria and Tyler after finding the ring buried below the grass! There were other places that I could have searched, but I chose that particular spot after Tyler told me that Victoria had laid her son down into the grass over by that particular place. I was correct in suspecting that the ring could have slipped off of Victoria's finger at that moment in time!
It brought me such joy to transport the wedding band over to the couple's house later that evening! They could not have been more grateful and more celebratory over the return of something that could not have possibly been replaced with another ring! The entire family joined me in giving thanks to the Lord for answering our prayer that Tyler and I lifted up to God just before I started the search! I'm so grateful to my Creator for giving me the ability to help such special people like Victoria and Tyler!
SUBSCRIBE TO BRIAN'S YOUTUBE CHANNEL TO VIEW THIS SEARCH VIDEO!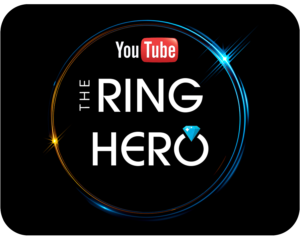 To receive a NOTIFICATION letting you know when the video is uploaded to YOUTUBE: go to YOUTUBE by CLICKING THE LINK BELOW or OPEN your YOUTUBE APP on your device, go to the SEARCH BAR, type: THE RING HERO, click SUBSCRIBE and lastly, CLICK ON THE "BELL" to receive NOTIFICATIONS when this latest search video is available to view! 
BRIAN'S YOUTUBE CHANNEL LINK: 
https://www.youtube.com/channel/UCmcn09QqWhHrj-7SGqlUBJQ
CALL BRIAN RUDOLPH WITH THE RING FINDERS AT (301) 466-8644!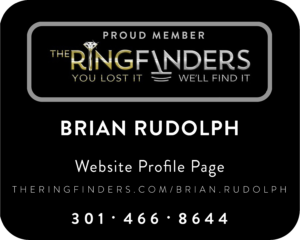 VISIT THE RING FINDER'S WEBSITE TO READ MORE OF BRIAN'S SUCCESSFUL SEARCH STORIES at:
TheRingFinders.com/Brian.Rudolph/
HE WILL RETURN TO YOU WHAT HAS BEEN LOST!
VISIT BRIAN'S BUSINESS WEBSITE FOR ADDITIONAL SERVICES, STORIES AND INFORMATION AT: www.MetalDetectingAdventures.net