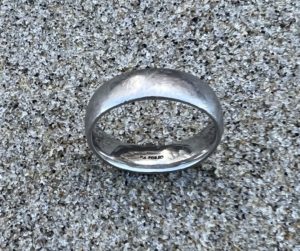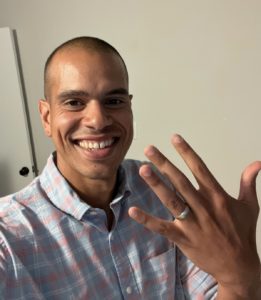 Laguna Beach Ring Finder Stan Ross .. Mobile Metal Detecting Service .. Call or Text Now .. 949-500-2136
*** Sarah and her husband are from the San Francisco Bay Area. They had come to Laguna Beach for a little vacation. While throwing a football in shin deep water his palladium wedding band came off his finger and  disappeared into the surf. 
Sarah found my contact information while doing a google search. We made arrangements to meet that same morning so I could get the area. They only had a few hours till they had to check out of the hotel. The tide was low enough to do a preliminary search but there was tons of seaweed in the suspected location of the ring loss.
After an hour and a half, I called it a day. Tomorrow I would be back a couple hours earlier to give it another try. The next morning was perfect the sand conditions had changed and there was no seaweed. After a hour of grid searching I move 30ft more to the south. BINGO ! .. Palladium wedding ring in the scoop. 
Sent Sarah a photo and went straight to the post office to mail it to them .. Next day mail, I don't trust the mail so I figured it would be easier on me not to wait 3 or 4 days.
Do you need help finding something of value?… Call or Text now .. Stan the Metal Detector Man  ..949-500-2136 … I WILL TRY ANYWHERE