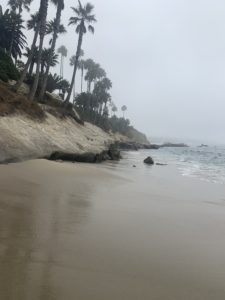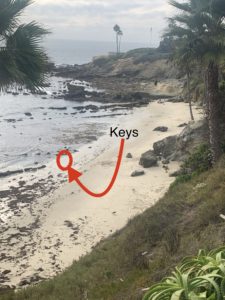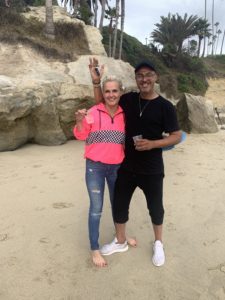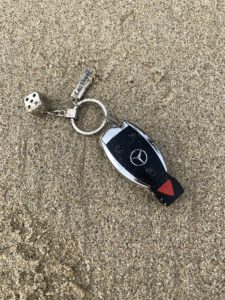 ***  Ricky called me from Laguna Beach, CA. with a desperate request to help him find his only Mercedes car key. It would take five days to and more that $500 to replace the key including the towing fee. To make things worse,  he was on vacation and lives in Las Vegas, NV.
I only asked two questions #1 .. were the keys lost in dry sand and  #2.. can you be there to show me the general location. He said the sand was not wet when the keys were lost but the overnight tide had come up over the area. I met Ricky a half hour at Picnic Cove , Laguna Beach, CA. where he showed me he had set his pants on the sand the night before. He believed his electronic key had fallen out of the back pocket when he picked them up. Although he didn't discover the keys missing until he got back to his car more than a half hour later.
The tide was receding but still difficult to search. I did a preliminary scan of the upper beach. These were actually a single electronic key fob without any other keys. It's hard to predict if the key fob would settle under the sand or be pulled further down into the surf. Regular keys or a heavy mans wedding band would normally go straight down into the sand. I couldn't guarantee that the key fob would still be in the area.
I stayed at the beach for four hours till the tide was low. After a thorough grid search, I found the key 40ft. to the south and approximately 40ft. down the slope under 4"or  5" inches of sand. I rinsed them off in fresh water then texted Ricky the good news. He wa
s there with a big smile and the real miracle was, the key still worked to start his Mercedes after 14 hours in salt water.
I learn something with every type of search and it was certainly special to help him and his lady. Get on the road again.
Key searches can be a problematic because people usually lose them while on a long walk or jogging. Many times other people find them first and don't know how to return them to the owner. "Suggestion" put a name tag on your Keys and Celphone with you contact information.  There are a lot of honest people out there. Give them a chance to find you.
"I WILL TRY ANYWHERE" call now  949-500-2136 .. I will answer promptly.