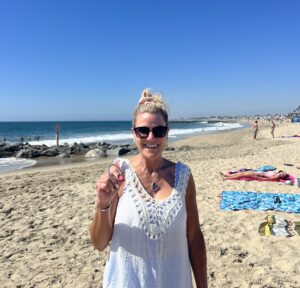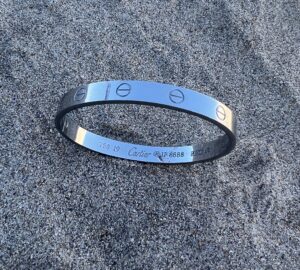 Who are you going to call when you lose something in the sand, grass, surf or any place that can't be visually searched.. Call or text .. Stan the RingFinder … 949-500-2136
*** Laura was on her vacation with her family visiting Newport Beach. She called me the day after closing her white gold Cartier Love Bracelet. Her call came about noon which concerned me as this beach gets a daily sifting by the beach cleaning crew. Objects as large as a bangle type bracelet can be picked up by the sifting machine or moved a distances from the loss zone.
Like many people, Laura had no idea of how a metal detector works, so I took a few minutes to demonstrate. We discussed where she had been the day she realized her precious bracelet went missing. I told her I would be removing all metal signals as I did the grid search and this is a tedious process that may take a couple hours. It is not something that she has to stand by to help. She could go about her day on the beach and I would let her know when and if I found the bracelet.
About an hour into the rather large search area, I got the perfect signal. I was almost positive that this was the treasure I had been searching for. One scoop with my sand scoop prove this was Laura's White Gold Cartier Love Bracelet. I walked over to where she had set up her beach chair at the waters edge to present her with the bracelet. Always a very emotional moment and definitely hard to express the reaction we get when we can return an item that they believed was lost forever.. 
I provide a mobile metal detecting service for all of Orange County and Los Angeles County. Basically any of the Southern California cities.. Call or text now for service or information on how this works… Stan the Metal Detector Man .. 949-500-2136 … I WILL TRY ANYWHERE