I talked to Tina. She was desperate to get her ring back. She had lost it while walking on the Crescent Heights ridge overlooking our city's downtown. What started as a lovely walk ended in panic when she got home and found her necklace was broken and the ring and cross that hung upon it were gone.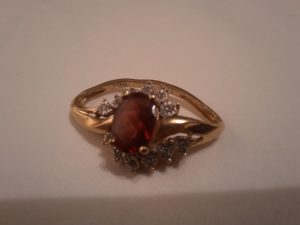 The cross was nice, but the ring, it was the last thing her mom gave her a year ago just before she passed. It was the only physical reminder she had of her mom and now it was gone.
Tina and I walked the route she had taken and the one she had already searched. For the most part it was on a hard packed heavily used path or the sidewalk across the street. I pretty well knew that if it fell there, it was already gone/picked up. There was a section in the park and I promised to search it.
She left and I looked. My friend Perry has a metal detector as well and I invited him to join me in the park as he only lived a few blocks away. We searched to no avail. So there ends the story.
Not so. Perry calls me a few days later. His neighbour messaged him and asked if he knows how to tell if a ring is gold or not.  When he finally gets to see the ring it turns out to be the ring lost by Tina.
It took a while but the ring is back in Tina's hands. A little worse for wear but with a little TLC, it will be back in shape as a constant reminder of her mom's love.  Just in time for the 1 year remembrance gathering in honour of her mom.  Tears flowed.
PS  We haven't given up on finding the cross.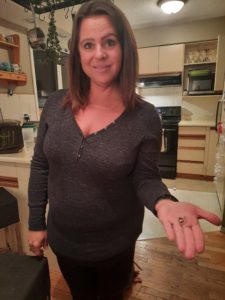 Tina's Story
"One afternoon I was walking crescent heights in Calgary with my girls, one of which was a toddler who was on again/ off again getting a piggy back ride from mama. Upon our arrival at home, I felt what I thought was a hair on my neck to only discover my chain had snapped! Well on that chain was a ring left to me by my mother who passed away at the same time last year! I was devastated to say the least, we traveled a pretty vast distance with truly no rhyme or reason to our path. I went into panic mode and contacted the local school, put up posters and walked that area for countless hours- NOTHING!
The next day I posted something on Calgary lost and found to have someone suggest contacting a metal detector group, and from there I met Evan ( angel to say the least) in our chat I discovered he had already begun searching for the ring, not even knowing one another yet! (The school put out a post)
We met the following day, I showed him my route, he seemed doubtful yet optimistic as the distance was vast yet contained if that makes sense…?
This man searched for hours on end, and no ring to be found! Again just devastated. Especially as I was approaching the anniversary of my mother's passing!
One day closer to the date, I got a message from Evan indicating that someone approached a metal detecting buddy of his and they believed the ring was found!!! My heart was in my throat- honestly.
Evan and his friend rushed to get that ring to me, and although that ring was damaged it was the ring!!! The band was damaged but all stones in place!
Evan went above and beyond to help me find this ring! From his countless hours of search, to holding my hand, and offering encouragement all along, to hand delivering the ring, but days before my mother's passing anniversary.
In this case the ring finder was so good, the ring found him! I am forever indebted to him, not only for physical efforts but his support! Words can't express what this man has done for me and if I ever lose anything again (fingers crossed I don't) he's the best guy for the case!
On a side note there was a cross on that chain too, and he still continues to search for it! I'm amazed at his devotion ( the thrill of the hunt? 🤔) either way I'm grateful beyond words! "
Thank you from the bottom of my heart Evan!