Early Sunday morning I got a text from a disappointed young man as his wife had lost her wedding ring somewhere between the dry sand and waste deep water at the beach. They had been searching for hours, got a metal detector but still had no luck getting it back. I needed a decent low tide so I agreed to get out there Monday morning at 5am to try and recover her ring.
I know the beach well and there's very little slope right now so if it was there it was simply a matter of getting my coil over it as I was hoping It wasn't too far out in the water which would require a minus tide to get to it. I had been searching a grid pattern for around 45 minutes with very few signals when I came across a nice sounding 28-29 on my new Equinox 900 and two scoops later I had this beauty in the fresh air.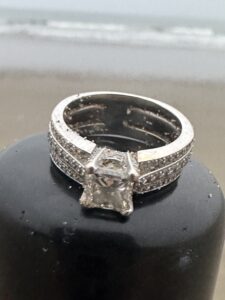 If you have lost a ring or other piece of jewelry don't hesitate and call or text me at 805-290-5009 so I can quickly make a plan to get your ring back to you. Time is not on our side as the elements and other folks may get to it first.