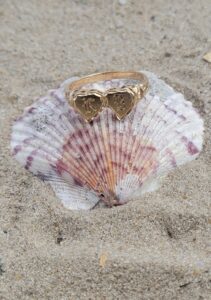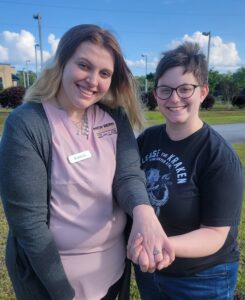 EMERALD ISLE, NC
Katelyn was relaxing, just before sunset, on the beach with her fiancée, Brianna.  Katelyn has placed the first ring anyone has ever gave her on a bag they brought along.  She thought it was put in the bag.  After they left, they realized the ring was missing.  Katelyn sent a plea for help and discovered, through social media, Crystal Coast Ring Finder (The Ring Finders member).
I had a very good understanding of the area and knew exactly where to begin my search.  Katelyn's very sentimental ring was the first target that sent an alert to my Minelab CTX-3030.  I made arrangements to meet Katelyn after she got off work.
Katelyn has had a rough run of luck lately with numerous hardships and relocating to North Carolina from Pennsylvania.  This ring was part of her strength.  She mentioned online "So when I lost it at the beach I lost a part of myself too."  I was very happy to bring the ring back to her so the ring can still be part of future stories and hopefully a very happy future!
Congratulations Katelyn & Brianna!   They are considering an Autumn wedding