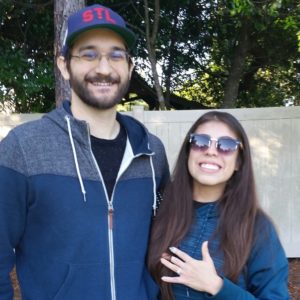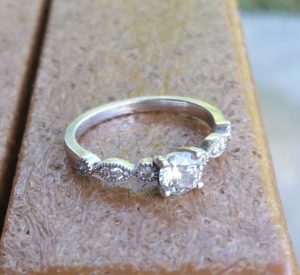 Michael, a newlywed of two months, emailed me asking about theringfinders service and if I would be available anytime soon to help look for his wife's lost diamond engagement ring! I assured Michael that if he was confident about the area where she lost it then there would be a very good chance of finding it. Often people think they've lost something in more than one location and that usually means allot more work trying to locate the missing item. And thankfully in this case there were only two locations that they felt very confident about.
Gaby, Michael's dear wife, had put her ring in her pants pocket along with her ear bud cord and she remembered pulling the cord from her pocket a couple of times while they were out taking some photos around a small pond in their neighborhood. And as with many ponds and water ways here in Florida come the usual wildlife that make themselves at home. And in this case there are allot of ducks…and Gaby was sure one of them had picked it up and possibly ate it!
I met Michael and Gaby the next morning bright and early and followed them to the first location where Gaby had posed for some photos. And after a 20 minute search of all the possible areas that she had walked the previous day…NO RING! So we walked along the sidewalk to the other side of the lake where more photos were taken. They again explained where Michael stood with the camera and the two places where Gaby had posed. So I set out a few marker flags and again got to work grid searching the final area. All along while searching I would get various sounding signals and when looking for a lost ladies wedding ring it is best to double check all the small foil like signals to be sure it is not the ring. Plus when looking for a recent drop it is almost sure to be just down in the grass and not buried in the dirt. And sure enough just as I was finishing up the final corner of the search area I got a loud signal reading of "44" on my Garrett ATMax metal detector and showing it was down two inches. I checked the target with my Garrett pin pointer and there hiding under the grass was Gaby's lost engagement ring! So I laid the pin pointer on the ground with the ring laying just off the end and motioned to Michael and Gaby to come over and look at what I had just found. As she picked up her precious ring I said a heart felt thank you to God for allowing me to find her lost treasure.
Maybe you've lost something recently and would like some help. Call, text or email me ASAP and I will do my very best to help you recover your lost item.
Mike McInroe…ready to serve you in your time of need and proud to be a member of theringfinders.com