Shawn "SGT Whitey" Sherrill – Ring Recovery Specialist…Lost your ring?… Call/Text ASAP  Anytime 24/7   918-313-2202!
TIKTOK video….
I received a call from Lindsey on Saturday. She proceeded to tell me she had lost her 14k morganite with diamonds ring in a pond and wondered if I could come and try and find it. I told her that I had to work until Monday. I told her I could be there first thing Tuesday morning. We set everything up and Tuesday morning I headed out.
I got there, got the story and went to work. I was told the ring was lost off the end of the dock on the right-hand side. I tried using a metal detector with a scoop, but the bottom was too mucky. I quickly jumped out and got my Nemo and handheld metal detector and after about 20 bullet casings, I get another signal and when I went to grab it in the dark murky water, I felt my finger go in the hole and I knew I had found Lindsey's ring!!!
I popped up out of the water with the ring on my finger!! There was a small audience on the dock that couldn't believe I had found it! I love seeing the smiles and the excitement on individuals faces when I return something so precious to someone.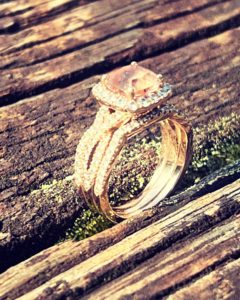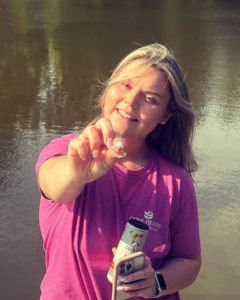 Thank you for reading my blog, please tell your friends about TheRingFinders.com