Brian Rudolph, Lost Item Recovery Specialist (Land, Water, Sand, Snow, Leaves, Cliffs, Houses & Vehicles) Will Find Your Lost Keepsake! Call ASAP (301) 466-8644!
I received a call from a woman named Julia who contacted me on behalf of her husband Jon. He lost his classic yellow 14 karat gold wedding band while working out at a local Park in Potomac, Maryland. This ring was not just a sentimental piece of property that meant so very much to the couple, but it also had tremendous spiritual meaning to Jon and Julia as well. The band that was placed upon the groom's finger, had actually been blessed by Pope Francis himself! This special keepsake was extremely unique in every regard!
Just before Jon started doing pull-ups on some play equipment, he responsibly took his ring off and placed it in his shorts pocket for safekeeping. Then, after he finished his reps, Jon went on a jog around a pond that was situated in the middle of the park. He forgot to place his wedding band back on his finger and by the time he got around to the other side of the pond, the ring had fallen out of his pocket somewhere along the path. Though the concerned gentleman searched for the missing jewel for 45 minutes or so, none of his efforts helped to recover the lost band. Jon walked home sad and shared the news with his wife Julia.
Sometime that evening, Julia decided to take to the internet and search for a solution to try to find a way to recover the one-of-a-kind ring. She eventually stumbled upon the elite international directory of metal detectorists called THE RING FINDERS. Before long, I received a call from Julia and I immediately made plans to visit the park where Jon's "symbol of love" was lost.
With all of the information that Julia had given me, I felt pretty confident that I could attempt the recovery project without having Jon present. In fact, his wife hoped that this would turn out to be kind of a surprise for her distraught husband if I was somehow able to return it back to his finger.
As soon as I reached the play equipment, I took my metal detector out and scanned the entire area. I concluded that the ring was definitely not under any of the wood chips that surrounded the equipment. I then moved onto the path where Jon had jogged around the pond.
Because there was plenty of distance that I would have to metal detect around the body of water, it made the most sense to start from the play equipment and move counterclockwise in the direction that Jon had traveled. Every 20 yards, I detected 5 feet from the right edge of the path over to the grassy lawn area. Then, when I didn't find the band, I backtracked and scanned 20 yards of grass (5 foot wide swings) heading back in the direction where I started detecting. When I didn't find anything on the other side of the path, I started searching the next 20 yards of grass on either side of the concrete.
Although the project took quite a bit of time, I am delighted to share that all of my efforts proved to be most successful in the end! After metal detecting approximately 100 yards of grass (moving my coil with 5 foot wide swings back and forth) around the pond, my detector eventually gave me the target signal that I had been yearning to hear and analyze for nearly an hour and a half! In the grass, a few feet from the path, I found the precious wedding band that had been blessed by the Pope and placed upon Jon's ring finger all those years earlier! I was beyond elated for the couple that would soon be surprised at my successful endeavors!
When I revealed my findings with Jon over by his house, the man couldn't believe what I was able to return back to him! He truly thought the ring was gone for good! He had such disbelief about the whole matter that he studied his ring extremely carefully just to make sure that he wasn't being set up for a huge disappointment. Thankfully, Jon realized quite quickly that what seemed to be an impossibility in ever seeing his ring again had actually become a true reality! I give thanks to the Lord for such a fantastic finish!
SUBSCRIBE TO BRIAN'S YOUTUBE CHANNEL TO VIEW THIS SEARCH VIDEO!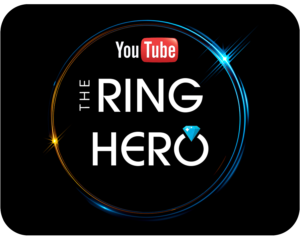 To receive a NOTIFICATION letting you know when the video is uploaded to YOUTUBE: go to YOUTUBE by CLICKING THE LINK BELOW or OPEN your YOUTUBE APP on your device, go to the SEARCH BAR, type: THE RING HERO, click SUBSCRIBE and lastly, CLICK ON THE "BELL" to receive NOTIFICATIONS when this latest search video is available to view! 
BRIAN'S YOUTUBE CHANNEL LINK: 
https://www.youtube.com/channel/UCmcn09QqWhHrj-7SGqlUBJQ
CALL BRIAN RUDOLPH WITH THE RING FINDERS AT (301) 466-8644!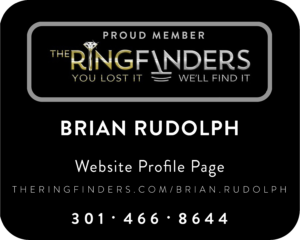 VISIT THE RING FINDER'S WEBSITE TO READ MORE OF BRIAN'S SUCCESSFUL SEARCH STORIES at:
TheRingFinders.com/Brian.Rudolph/
HE WILL RETURN TO YOU WHAT HAS BEEN LOST!
VISIT BRIAN'S BUSINESS WEBSITE FOR ADDITIONAL SERVICES, STORIES AND INFORMATION AT: www.MetalDetectingAdventures.com