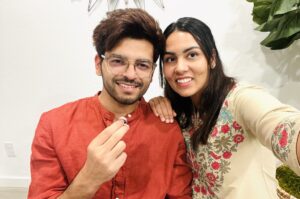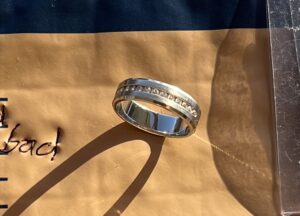 The Ring Finders Metal detecting service helped find a lost diamond gold wedding ring at Pacific beach San Diego California. Call Curtis Cox 760 889
One recent Sunday in October 2023, I received an urgent text message asking if I could help find a Lost wedding band with my metal detector. After a few questions and concerns I assured them I would be willing to drive there ASAP to scan over the areas they believe it was lost at.  Aman & Prabhneet were both heading back to Arizona from vacation and was not able meet.
    I arrived to the scene of the lost ring with my Pulse induction metal detector that in my opinion is the best machine for finding men's lost gold rings on the beach to date. I also have V.L.F & Frequency detectors for other types of jewelry searches if needed but this particular P.I machine has over 11 yrs of actual time on California beaches,Has never let me down nor has ever been sent back to the factory for repairs/replacement.
    So off I went grid searching every inch of the wet sand while the tide went out. From the description of where it may of been lost I started to loose hope…I've already exhausted the possible areas to scan after just an hour. There were a few targets that were buried deep down but No rings. I stopped to take a break and think about expanding the hunt one direction or another.
    Not to be over Confident in my machine & grid searches,,,There is always that question if I could of missed it while gridding North to south,On the swing,On the overlap,On the turn around Etc…So many variables at hand. Often times us Ring finder guys resort to cross gridding meaning Re-scanning the area AGAIN which will take another HOUR!!
    While the sun was setting and Luck thinning,,
I decided to scan the top edge of the wet slope where beach goers were leaving then soon after into it I got a perfect sounding signal on my Metal detector..One that matches a nickel/Beaver Tail or Gold ring?? ….After digging two scoops or 5-8" Down Is when…
I miraculously unearthed Aman's precious diamond wedding ring:).  This was very exciting  just for me alone so I had sent a pic of the ring to them right away. You can only imagine how Amazed yet relieved they were:) The very next morning I mailed it off to their residence which only took a couple days before he had his long lost Gold ring back on his hand.
WHO YA GONNA CALL? 760 889 2751  DON'T WAIT TOO LONG,,IF THE OCEAN DOESN'T CLAIM IT,,E'M PIRATES WILL!!