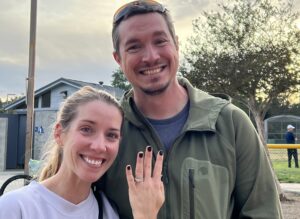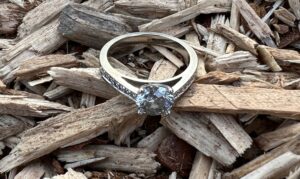 The Ring Finders Metal detecting service helped find a Lost Gold Diamond wedding ring in San Diego. Contact  Curtis Cox 760 889 2751
Recently on a Sunday night, I noticed a text message asking about my services to help find a diamond ring lost at a park in Poway San Diego. Adam and his wife had been searching for it all evening with no luck,,Except for finding my contact info on The Ring Finders website.
I looked up this place called Highland park on google maps and actually remember detecting this tot-lot nearly 15 years ago. The hurdle being is it's a public park connected to a busy active elementary school,So I established what I thought would be the best time to meet the following day after school hours and before sunset.
Arriving on time promptly I immediately kicked myself in the gut while noticing Huge tire track marks with what appeared to be brand new bark all over the Tot-lot!  I walk out with my metal detector gear trying to stay optimistic then see Adam there also with a metal detector. Right away he explained the City of Poway had just offloaded 6-8" of new bark that same morning!!  What are the chances of this happening?? I couldn't believe it either. I asked some of my standard questions to help narrow some search areas but the ring may have been lost any where inside of this fairly large playground area. They also weren't 100% sure having not noticing till she got home.
Adam had obtained a bounty hunter metal detector which is notorious for not finding gold jewelry as I have experienced this every year since 2014. Not even one incident I've seen or heard of a beginner being successful at finding small gold items with this particular Metal detector. I didn't want to give Adam's hopes up with too much info,,Besides,,He also had a handful of typical metal trash we detectorist all find.
I figured it make sense if I scanned over the areas he's done already starting at the back of the tot-lot. It consumed a little extra time to grid search due to every target was 4-8" deep under that new bark. There was also many many targets when ever I swung around but I know what sound to listen for so focusing on just small gold signals I was able to clear out 90% of the park all the way to the front in less than hour.
I make my way to start a new grid search on the last section when another small Non ferrous signal beeped on my Metal detector indicating it was 6-8" deep down,,,So Down I went digging with my fingers again when at the bottom of this hole,, A diamond ring magically appeared:)
I wasn't sure how to break it to them,Then decided to ask Adam if his detector is working while kneeling down and planting the ring under the shallow bark,,,He swung the coil right over it several times but it barely even beeped once? Ahhh,,,Just I suspected,,,I told him he would have never found this gold ring with that machine as I stood up smiling opening my hand:).  ***BOOM*** Instantly hugs,Tears & Cheers came roaring in. Lots of parents & kids at that park got to witness The Ring Finders in action too. They were extremely relieved being so thankful I could help them find what may of been lost forever. Thank you for the grateful