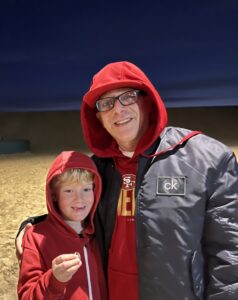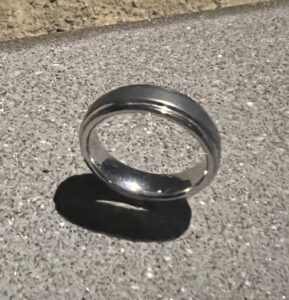 *** It was a Wednesday after a day at work, Jared and his took his son to Seal Beach, CA. for a walk on the beach just before sunset. It's winter and the city has a 20ft. sand berm built up to protect beach front homes from high surf.
They took a few minutes to play around on the steep sand berm while leaving the beach. Jared felt his ring slip from his finger immediately disappearing in the sand. It was cold, getting dark and  they had to get home for dinner. Jared felt he may have a better chance to find his ring the next day as it's only a couple miles from his home. 
Using the internet to get ideas on how to find a ring in the sand, he found my information on TheRingFinders website. He called right away, which I recommend for items lost on the beach. Jared told me where and what had happened. I knew exactly where the loss had happened because I lived a block away for over 20 years. 
We met at the beach a half hour after the call. Jared showed me the general area. I turned on my metal detector backing away 15 or 20ft. to get a few practice swings. BOOM! The first two swings produced a positive signal that was his wedding ring. Jared was surprised that we had a successful recovery in such a short time. I give him credit for calling me ASAP. Metal detectors are a great tool to find rings but it takes a little experience to be able to use one. Timing is more important for rings lost in public areas. I love being able to use my experience using my metal detector to help others who have lost sentimental keepsakes.