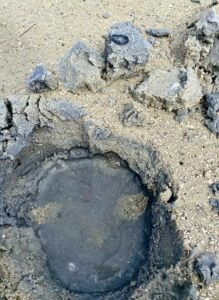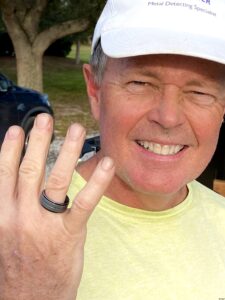 Steve Thomas
Dunedin Ring Finder
Lost a ring or other metal valuable at the beach or in a grassy or sandy area? Jewelry slip off of you while working outside, playing with the dog or swimming? Please call me ASAP at (843) 995-4719. I offer a free metal detecting service, reward optional but appreciated upon recovery!
Erin and her husband Michael were enjoying some beach time with family on the Dog Beach portion of Honeymoon Island State Park. Michael was playing with the children in about knee deep water when he felt his heavy tungsten carbide wedding band slip off of his finger into the water. Despite a frantic effort by all present to find the ring searching in the water by hand, it could not be found.
Unfortunately as they were vacationing in the Tampa area and staying with family, Erin and Michael had to return to their home in Texas several days later without Michael's wedding band. After Erin returned home, she began seeking help to find her husband's ring on local social media pages including one called Honeymoon Island Sandbar Chasers where several people recommended me.
After I was able to connect with Erin, I discovered that Michael had lost his ring about fours days before near high tide in knee deep water which means it would just be in wet sand at low tide. I was concerned that the ring might be found by another detectorist under those conditions so I headed to the beach at low tide the following morning. Erin had texted me a pin drop on a Google map as well as a description of the loss location which included several visual landmarks but Erin's step mom who was with the family at the beach and who lives in the area was not able to assist me that day. I wanted to recover the ring with one search because beginning the next day I was going to be out of town for two weeks.
After I reviewed the map and noted landmarks at the site, I decided to begin my search in knee deep water and grid about 50 yards to the north and south of the beginning point. After working the water up to the wet sand for several hours and finding several bottle caps and pull tabs, I detected a target with a strong signal that I felt like could be just what I was looking for. I dug a few inches down with my scoop and out popped Michael's wedding ring! I sent some photos to Erin who couldn't believe how quickly I had recovered the ring especially with no one present to point out the precise location. Later that day I met up with Erin's step mom to return the ring so she could mail it to Erin. As soon as I receive a photo of Michael with the ring back on his finger, I will edit this post. In the meantime, my smile will have to do!
Erin and Michael, thank you for trusting the Dunedin Ring Finder to find and return Michael's wedding ring!