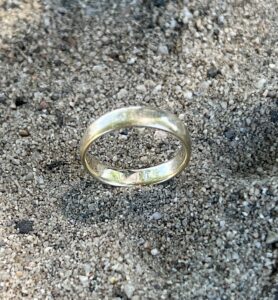 If you want the best chance to find your sentimental gold ring, don't waste time buying or renting a metal detector. Call an experienced metal detecting service.. Stan the Metal Detector Man .. Call or Text  949-500-2136.
*** Haja was playing volleyball with friends at a local park in Irvine, CA. She hit a ball over the net and he gold wedding ring went flying into the sand. She knew the second it left her finger. The next day she returned to sift through the sand. Then she ordered a metal detector from Amazon.
The day the metal detector was delivered, she went to the volleyball court to continue the search. Nothing showed up. Her friend who had been helping her decided to go online for advice. They found my information and called. 
I met them shortly after talking to them . The park was only a few miles from my place.  With my state of the art metal detector and experience using it. We had Haja's wedding ring out of the sand and back to Haja were it belongs.
If you have lost a ring or other sentimental keepsake, call Stan the Metal Detector Man. Available to help you now. Don't waste time renting or buying a cheap metal detector that you don't have time to learn how to operate. ..Call or Text  Stan the Metal Detector Man  … 949-500-2136  "I WILL TRY ANYWHERE "