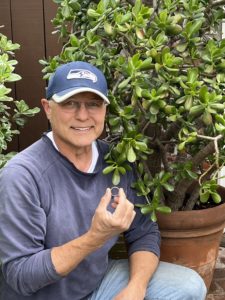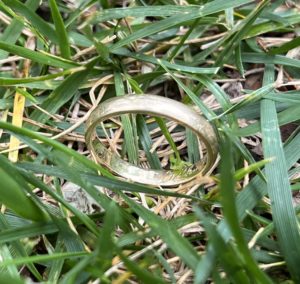 Do you need help finding something of value?
Stan The Metal Detector Man
… Call or Text:  949-500-2136
*** Jack called me to help him eliminate a few places where he thought his gold wedding ring might be in his yard.. This ring has been on his finger for 37 years and means a lot to he and his wife. Because he hadn't felt the ring come off and didn't discover it missing till the day after doing his gardening, he felt it was going to be impossible to find. 
When he called me, I was able to set up a search of his yard that same morning. We met at his home which had just had a new front turf lawn installed with new planters where he just planted flowers. A grid search of the lawn and planters showed no sign of the ring. 
Then Jack remembered that he had taken mulch to add to a dozen large potted plants in the backyard. The large pots required using a hand held pinpointer detector to search the surface mulch soil. Nearing the last of 12 pots, I got a metal signal. I asked Jack to run his fingers in the soft soil because I couldn't reach that spot. BOOM ! Jack yelled with excitement that he had the ring. It was crazy because we both knew we were running out of places to search.. It was a awesome recovery, surprising both of us. This never gets old, love making smiles and saving irreplaceable sentimental keepsakes. 
I WILL TRY ANYWHERE! Call anytime 24/7 for help.. Stan the Metal Detector Man … 949-500-2136