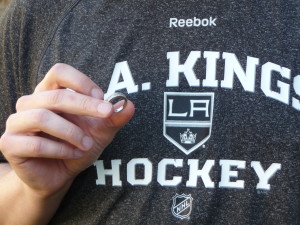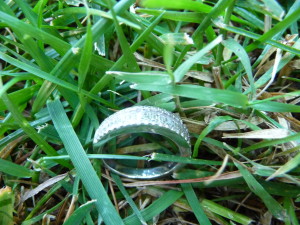 I received a call from Derrick this morning asking for help in finding his wife's wedding ring. He and his wife had been carving pumpkins in the back yard yesterday in anticipation of Halloween, and so as not to get her beautiful diamond wedding ring covered with pumpkin goop, she decided to remove it and place it on the blanket they were using. When they were done Derrick lifted the blanket, forgetting the ring was on it, and it disappeared into the grass. He told me they searched for a while right after the loss, but it was getting dark fast making a visual search harder. He then got up this morning with the new light and conducted a more thorough search of the area with no luck. He began to do some research on the Internet, and found me on TheRingFinders.com web site. I was due home in about 15 minutes, and told him I would leave for his location as soon as I got my equipment together.
I arrived at his house, and he invited me to the location of the loss, wherein I was looking at a rather large yard of nicely manicured grass, and figured it may take a while to search for this one. Derrick showed me where they were sitting, and what he had done to the blanket. He didn't think he had flipped it too hard, but you never know with such a small item that can fly quite a distance with minimal effort, so I resolved to myself that I would be searching the whole yard. Thinking in that mindset, I started in the most likely beginning point. I swung my detector 2 times hearing many multiple high tones like rusted nails, and thought this might end up being very difficult. I swung once more and heard what I was listening for, not believing that I could have found it so soon, but went down with my pinpointer, and located his wife's ring, all in about 10 seconds. I reached down and brought it up to show an unbelieving Derrick. I got to thinking that he might have thought I brought the ring with me, and had it in my hand when I began the search, because it was found so fast.
Derrick was very happy to have the ring that he gave his wife on their wedding day to give back to her today. I could tell it meant a lot to him, and am sure his wife was ecstatic to have it on her finger again. He did not want his full picture taken, but did allow a bust shot of him holding the ring. Trust me he was smiling, and very happy. I was glad to have made his day. The story of this ring continues.
Derrick sent the following to include here:
Thank you, Steve.  Article looks great.  Thank you again.  Here is a little something that, if you want, please feel free to add.
My wife and I really didn't know what to do when she lost her wedding ring in our yard.  It was in our own backyard yet for some reason it still nearly impossible to find.  After hours of looking in our own yard with no luck, we felt sorta hopeless.  I spent sometime researching what I could do online and it was either buy/rent an expensive metal detecting device or see if someone who knew what they were doing could help us out.  After reading some success stories at the ring finders, I decided it couldn't hurt.  I called Steve on a Sunday and even though I live about 35 miles away from where he was, he still was nice enough to come by.  It was the best idea I had.  Like Steve mentioned, within seconds he found my wife's ring.  It was such a relief not only for me, but for my wife, of course, who thought her ring was for sure lost forever.  Take it from me, if you lose a ring, give someone on this sight a call, they know what they are doing and can help turn what could be a terrible situation into a cute little story.
If you lose your ring or other metal item of value, don't buy a metal detector or rent a metal detector, but call one of the members of this directory. Look at the different metal detecting Ring Finder blogs and read their success stories, then call them ASAP, and they will work hard for you to find what you thought might never be found again.
I search, Cabrillo Beach, Hermosa Beach, Huntington Beach, Long Beach, Malibu, Manhattan Beach, Newport Beach, Redondo Beach, Santa Monica, Seal Beach, Torrance Beach, Venice Beach, and all parks, yards, gardens, and ponds (to 5 foot depths) in Orange County and Los Angeles County.