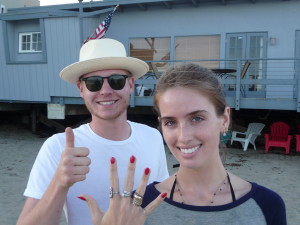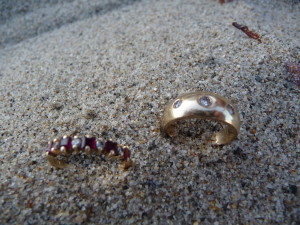 After spending this morning having breakfast with fellow Ring Finder Stan Ross, in which we talked of the joy we are able to return to the people we help, I got a call from Sabrina later in the day. She had been at the beach with friends, and shook her hands, when she looked to find that two of her rings had come off. She and her friends searched for them, but were unable to find them. She then got on the internet, and was able to find The Ring Finders where she got my name.
I began to ask what had happened, where it happened, and how long ago did it happen. She said that she lost them in the dry sand, just a couple hours before she called. I told her to secure that area, and that I would be there as soon as possible, because I knew from what she explained to me, that the chances were good for finding her rings (it is so important to look for lost items as soon as possible to insure recovery). When I arrived Sabrina and her friends took me to the area of the loss, where I could see they had drawn a line in the shape of a box, about 10 x 10 feet. They felt real sure that the rings would be in that area. I asked her to show me exactly what she did, and when I saw her motion, I knew the rings would be right where she had been.
I put the headphones on, swung my coil a few times, and received a good sound. I scooped up the sand, and when I shook it out, there was a bottle cap, and one of her rings. I pulled out the bottle cap and said, "I don't think this is what we were looking for". She reached out and took it with a bit of disappointment, when reached back in the scoop to bring out her ring, and said, "but I think this is". Her joy was incredible, I swung a few more times, and scooped up her other ring. It was great to see her so happy, as those rings mean a lot to her and her mother. Stan and I were so right this morning, to see the joy returned is a great reward.
If you lose your ring or other metal item of value, don't buy a metal detector or rent a metal detector, but call one of the members of this directory. Look at the different metal detecting Ring Finder blogs and read their success stories, then call them ASAP, and they will work hard for you to find what you thought might never be found again.
I search, Cabrillo Beach, Hermosa Beach, Huntington Beach, Long Beach, Malibu, Manhattan Beach, Newport Beach, Redondo Beach, Santa Monica, Seal Beach, Torrance Beach, Venice Beach, and all parks, yards, gardens, and ponds (to 5 foot depths) in Orange County and Los Angeles County.