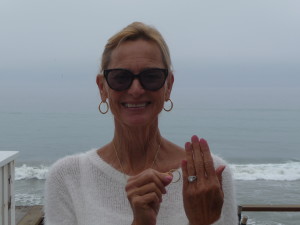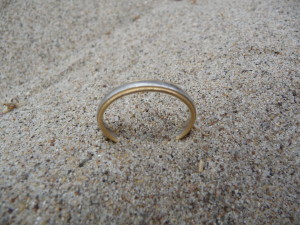 I was having breakfast this morning when I received a call from Pam. She asked if could help her find her husband's wedding band. They were having a party Friday July 3rd in their backyard when her husband wanted to go for an ocean swim (their property backs up right to ocean). Their backyard is set up like a beach surrounded by a deck with lots of beach sand, beach chairs, and even beach balls. Pam's husband put all of his important belongings including his ring  into his hat on a table on the deck so he would not lose them. What happened next was that Pam moved the hat, not realizing the items were inside, and flung them into their beach backyard. They had done some serious searching. I could see the lines in the sand showing how they had dragged the sand for the ring, but with no results. I am glad they found me, as I was free to go today and search for them.
When I got there, as I said I could see the drag marks in the sand, and Pam explained to whole loss process to me. It is so good to have someone know exactly what happened, and remember how the loss took place, to make it easier to help them. I got my detector ready, and in about 20 seconds had the ring in my scoop. It was then Pam and I talked about my time with The Ring Finders. We were going through my book of smiles when she offered up that they had been married for 3 years, and today was their anniversary; HOW GREAT IS THAT!? What a great day. What a great smile.
If you lose your ring or other metal item of value, don't buy a metal detector or rent a metal detector, but call one of the members of this directory. Look at the different metal detecting Ring Finder blogs and read their success stories, then call them ASAP, and they will work hard for you to find what you thought might never be found again.
I search, Cabrillo Beach, Hermosa Beach, Huntington Beach, Long Beach, Malibu, Manhattan Beach, Newport Beach, Redondo Beach, Santa Monica, Seal Beach, Torrance Beach, Venice Beach, and all parks, yards, gardens, and ponds (to 5 foot depths) in Orange County and Los Angeles County.