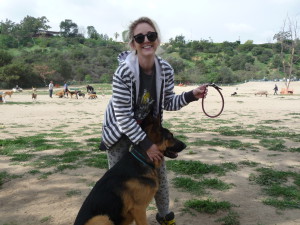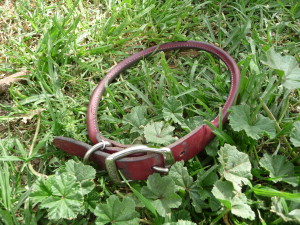 I received a call from Audrey about a lost dog collar, lost at a dog park. The collar was from her friend Sandra's former dog who had been her close companion for many years, but had passed away. She now had a beautiful German Shepherd pup that the collar went on when Audrey took him and her own dog to the dog park. Pups being what they are were playing and exploring when as Audrey explained it to me "The pup went into the weeds and trees with his clothes on, and came out naked" (the collar was missing).
We agreed to meet on Wednesday morning to conduct a thorough search of the area. I looked at the hillside, and it full of tall weeds and a lot of dead tree snags; a perfect place for the collar to be lost. Audrey told me that there was a tag with a Swiss cross and the dog's name, that was attached to the collar which was very important as well. I put on a 6 inch coil in order to get into all of the small spaces between weeds and snags. I searched for about two hours until I finally found the collar, but the tag was not with it. I searched around the area for the tag hoping it fell off in the same area, but was unable to come up with it. The park is very large, and Audrey thought there might have been another spot where the tag might have come off, so I searched that area as well, but was unable to find the tag. Fortunately I was able to find the collar. I was able to provide some closure to the loss with the collar find.
Update 4-4-15:
Sandra found the missing dog tag close to home, so she has been reunited with both the tag and the collar.
Audrey sent the following email to include here:
Hello Steve,
Thank you so much for including our story on your blog and for coming out to help us.
I heard that Sandra called you and you went back to look for the tag, you are an amazing person.
Truly, I cannot thank you enough.
All the best,
Audrey
If you lose your ring or other metal item of value, don't buy a metal detector or rent a metal detector, but call one of the members of this directory. Look at the different metal detecting Ring Finder blogs and read their success stories, then call them ASAP, and they will work hard for you to find what you thought might never be found again.
I search, Cabrillo Beach, Hermosa Beach, Huntington Beach, Long Beach, Malibu, Manhattan Beach, Newport Beach, Redondo Beach, Santa Monica, Seal Beach, Torrance Beach, Venice Beach, and all parks, yards, gardens, and ponds (to 5 foot depths) in Orange County and Los Angeles County.
One Response to "Lost Dog Collar in Laural Canyon Dog Park, Los Angeles, CA…Found"