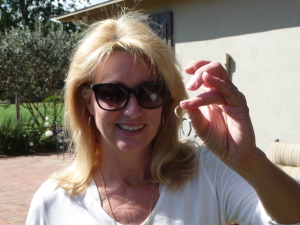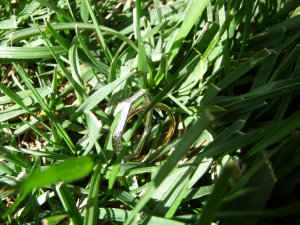 I received a call today from Chris, who told me that his wife had been doing some yard work and lost her ring the day before. Being available to go and search for them, I got my equipment together, and was on my way. When I got to their house, and was shown the area, I could see some possible problems like power lines close to the property (to cause electrical interference), and a very tight sprinkler system. I had brought a detector that could find a good frequency, and I also switched to a 6 inch coil and lowered my sensitivity because it was a fresh drop; these changes made the hunt for the ring a lot easier. Chris showed me the area, and explained how his wife had removed her ring in order to do some work in the yard, and put it in her pocket, but in the course of the work, she had bent over, and the ring came out, going into the grass. They had searched the area themselves, but were unable to locate the ring. They knew the general area, so I began my search. I made about 3 passes, albeit small ones with the 6 inch coil, but I made sure to work extra slow in order to be sure I covered the whole area. I had just passed over a sprinkler head when I heard that unmistakable low sound in the headphones. I then went to the grass with my pin pointer, and with a little moving of the grass, out pops this beautiful intertwined yellow gold and white gold diamond ring. It was such a pleasure to see the smiles on their faces. What a great day.
If you lose your ring or other metal item of value, don't buy a metal detector or rent a metal detector, but call one of the members of this directory. Look at the different metal detecting Ring Finder blogs and read their success stories, then call them ASAP, and they will work hard for you to find what you thought might never be found again.
I search, Cabrillo Beach, Hermosa Beach, Huntington Beach, Long Beach, Malibu, Manhattan Beach, Newport Beach, Redondo Beach, Santa Monica, Seal Beach, Torrance Beach, Venice Beach, and all parks, yards, gardens, and ponds (to 5 foot depths) in Orange County and Los Angeles County.
2 Responses to "Ring Lost in Yard in Brentwood Los Angeles, CA…Found."