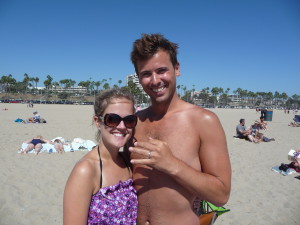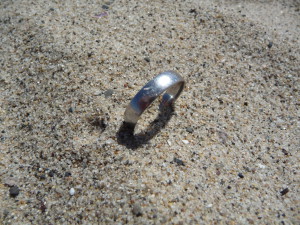 My son and I had just gotten home from getting him some football cleats for the upcoming season, when I received a call from Claire. She said she had lost a ring and was hoping I could help. Well I was home and close to my equipment, so I knew that I could get on the road towards her location quickly. I was about an hour away, but I knew that beach, and with our weather (wonderful), it would be packed and parking would be at a premium. Fortunately I was able to park quickly, and found her. I then met her husband of three weeks, Paul, and they explained how they had come from London in the UK, to honeymoon in California, Arizona, and Nevada, and spent today lounging on our local beach. They told me that Paul wanted to go in the water, and did not want to lose his ring, so he gave it to his new wife for safekeeping. Claire did not want to lose it either, so she put the ring on her thumb, and laid back on her towel; she then dosed off. Something awoke Claire, and when she awoke a reflex caused her to flick her wrist, and off went the ring. They had been searching for a while, but were unable to find the ring. Paul showed me the area he thought the ring had gone to, and that was the area they concentrated on. Getting all of the information, I then began a small grid of the area, and low and behold Paul was correct in his assessment; I found the ring right in the area Paul had been searching. It is amazing to know how hard these rings are to find, even when you are looking right at them, so to speak. I really enjoyed hearing about their travels, and seeing the happiness that I was able to leave on the beach today, another great day.
If you lose your ring or other metal item of value, don't buy a metal detector or rent a metal detector, but call one of the members of this directory. Look at the different metal detecting Ring Finder blogs and read their success stories, then call them ASAP, and they will work hard for you to find what you thought might never be found again.
I search, Cabrillo Beach, Hermosa Beach, Huntington Beach, Long Beach, Malibu, Manhattan Beach, Newport Beach, Redondo Beach, Santa Monica, Seal Beach, Torrance Beach, Venice Beach, and all parks, yards, gardens, and ponds (to 5 foot depths) in Orange County and Los Angeles County.
4 Responses to "Platinum Wedding Band Lost at Santa Monica Beach, CA…Found."