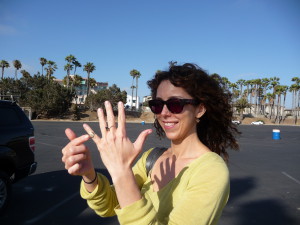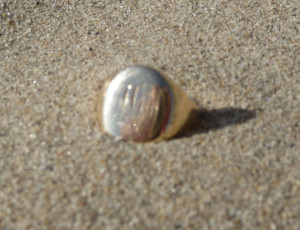 I received an email from Lisa today stating that she had lost a ring on the beach in Santa Monica last night, and was unable to find it. I got back with her right away, and we arranged to meet at the location, so she could show me where she believed it was lost. I started a grid search, and found the beach loaded with tent stakes, bottle caps, and pull tabs, as well as some coin drops. Although disconcerting to have all of this in the sand, I knew there was a good chance of finding Lisa's ring because I could tell the beach cleaners and metal detectorists had not been through the area. Lisa had to leave after about an hour, and I told her that I would keep going, because I had not gone over all the possibilities in the sand at that time. Well a few hours later, and a bit of perseverance paid off with another addition for the book of smiles. After getting the ring back to her, she told me that the ring had belonged to her mother, so it held a strong personal significance to her.
If you lose your ring or other metal item of value, don't buy a metal detector or rent a metal detector, but call one of the members of this directory. Look at the different metal detecting Ring Finder blogs and read their success stories, then call them ASAP, and they will work hard for you to find what you thought might never be found again.
I search, Cabrillo Beach, Hermosa Beach, Huntington Beach, Long Beach, Malibu, Manhattan Beach, Newport Beach, Redondo Beach, Santa Monica, Seal Beach, Torrance Beach, Venice Beach, and all parks, yards, gardens, and ponds (to 5 foot depths) in Orange County and Los Angeles County.
8 Responses to "Lost Signet Ring Santa Monica Beach…Found"