Brian Rudolph, Lost Item Recovery Specialist (Land, Water, Sand, Snow, Leaves, Cliffs, Houses & Vehicles) Will Find Your Lost Keepsake! Call ASAP (301) 466-8644!
Charlie threw an oversized tennis ball to his dog at a park in Washington DC. During one of his throws, he lost his 18 karat white gold wedding band which slipped off of his finger as Charlie's hand moved forward. The proud canine owner searched for the missing keepsake for hours along with the help of 15 other people who were walking their dogs in the same vicinity at the time of the band's disappearance.
Later on that same night, Charlie returned to the park with a flashlight and searched for his wedding band for another couple of hours. Sadly, all of his efforts still led to no avail.
The next day, during daylight, again the distraught young man continued his attempts to recover the irreplaceable jewel by raking leaves all over the park to try to locate the ring. Still, there was no ring to be found. Charlie began thinking that maybe somebody had already picked it up, so he started posting signs around the area.
When Charlie got back to his place late that night, he contacted me after somebody in the park recommended THE RING FINDERS – an elite international directory of metal detectorists. That individual had utilized the service of a professional ring finder somewhere else in the world. We set up the appointment to come out the very next day.
At 7:30 a.m. the next morning, I wheeled all of my equipment over to the section of the park where I would be meeting up with Charlie. As soon as my client arrived, he showed me where he was standing and how he threw the tennis ball over to his beloved four-legged friend at the moment when Charlie's band flew off of his finger. Then, I led us in a prayer to the Lord to help me become a ring hero for my client. Soon after I got right to work.
Charlie thought that he saw his ring move forward and to the right. I told him that people's recollections can be quite different than where these "little guys" actually end up. I shared that many times the the ring ends up behind the person rather than it propelling forward.
During my four hour metal detecting search, I laid down grid line tapes and covered an area that was 100 feet by 65 feet. People walking in the park probably thought there was some crime investigation going on! Indeed I take my work very seriously! Diligently, I metal detected the entire area of that section of the park.
As the hours progressed, I could tell that my client was giving up hope by the minute. He was certain that I would have found it by that time period. However, I explained to him that doing a search like this could take many hours and that doing a detailed grid search like this one will absolutely not miss an inch of territory. He was worried that someone had eyeballed his special little treasure and carried away forevermore. I told him to remain hopeful.
Towards the end of the four hour mark, I am happy to share that I did in fact recover Charlie's very handsome 18 karat white gold wedding band! My metal detector picked up the ring's precious metal signal out in the grass, under some leaves exactly 35 feet on a diagonal right angular path behind where Charlie threw the tennis ball! So not only did the left hand go back and release the ring behind Charlie, but it went over 10 yards to the right of the very perplexed dog owner! Just like I said to him before I started the search, sometimes these rings end up behind the client and not in front or to the sides of where they were standing.
I could not have been more excited when I saw that nice sized silver looking halo just sitting under the leaves and grass waiting to be discovered and returned to its rightful owner!
Charlie couldn't believe where I found his sentimental keepsake! The two of us gave thanks to the Lord for helping me become a ring hero for my client! Charlie was so grateful that my faith, my unrelenting attitude to find missing jewelry and my years of expertise with finding lost rings led me to the unraveling of this very curious ring loss mystery!
SUBSCRIBE TO BRIAN'S YOUTUBE CHANNEL TO VIEW THIS SEARCH VIDEO!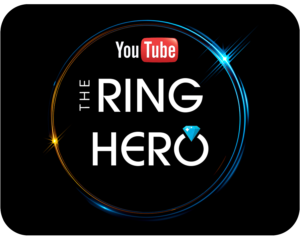 To receive a NOTIFICATION letting you know when the video is uploaded to YOUTUBE: go to YOUTUBE by CLICKING THE LINK BELOW or OPEN your YOUTUBE APP on your device, go to the SEARCH BAR, type: THE RING HERO, click SUBSCRIBE and lastly, CLICK ON THE "BELL" to receive NOTIFICATIONS when this latest search video is available to view! 
BRIAN'S YOUTUBE CHANNEL LINK: 
https://www.youtube.com/channel/UCmcn09QqWhHrj-7SGqlUBJQ
CALL BRIAN RUDOLPH WITH THE RING FINDERS AT (301) 466-8644!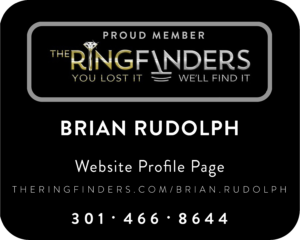 VISIT THE RING FINDER'S WEBSITE TO READ MORE OF BRIAN'S SUCCESSFUL SEARCH STORIES at:
TheRingFinders.com/Brian.Rudolph/
HE WILL RETURN TO YOU WHAT HAS BEEN LOST!
VISIT BRIAN'S BUSINESS WEBSITE FOR ADDITIONAL SERVICES, STORIES AND INFORMATION AT: www.MetalDetectingAdventures.net