Brian Rudolph, Lost Item Recovery Specialist (Land, Water, Sand, Snow, Leaves, Cliffs, Houses & Vehicles) Will Find Your Lost Keepsake! Call ASAP (301) 466-8644!
Trey was playing baseball with his son in the front yard of their McLean, Virginia house. He believed that he lost his platinum wedding band when he took off his baseball glove. The ring was loose on his finger and because the same situation occurred once before, Trey assumed that the wedding band flew off the moment he pulled the mitt off of his hand.
The entire family searched long and hard for the very special memento, but in the end, all of their efforts led to no avail. Hours of looking had gone by and even the metal detector that they used to locate the jewel did not help the distraught man with recovering the ring.
At some point, Trey and his wife Tracy went on to the internet and searched for a new solution. They found the elite international directory of metal detectorists called THE RING FINDERS. It was at that point that I was contacted and Trey shared the whole story from start to finish.
Later that evening, I headed over to the family's McLean, Virginia residence to conduct my own ring search on their front lawn. There were plenty of leaves scattered about and Trey didn't want to remove any of the tree debris until after his ring was recovered. He was worried that If he had cleaned up the front yard, the jewel could have been swept into a leaf bag and taken away to the dump by accident.
After Trey and his son had finished showing me where they played ball and their overall movements on the front lawn, I immediately returned to my car to retrieve all of the metal detecting equipment necessary to conduct the search.
I truly love the searches that I participate in when I end up finding the sought after object within a few minutes swinging my detector. Well, I can happily share that this particular "project" turned out to be just like one of those cases! I was metal detecting around the batter's cage that was off to one side of the property when I picked up an excellent signal. I knelt down to the ground and positioned my high lumens headlamp towards the area that I was searching, and there it was! I found it! I successfully recovered Trey's lost Platinum wedding band that he so loved and cherished! The piece of precious metal had been hiding under some leaves in the grass. It was such a fantastic moment, especially when I surprised the whole family with the fantastic news! I truly love helping people… especially this family that was so very warm and kind to me! I'll never forget them!
SUBSCRIBE TO BRIAN'S YOUTUBE CHANNEL TO VIEW THIS SEARCH VIDEO!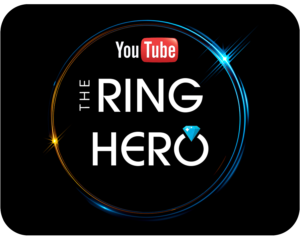 To receive a NOTIFICATION letting you know when the video is uploaded to YOUTUBE: go to YOUTUBE by CLICKING THE LINK BELOW or OPEN your YOUTUBE APP on your device, go to the SEARCH BAR, type: THE RING HERO, click SUBSCRIBE and lastly, CLICK ON THE "BELL" to receive NOTIFICATIONS when this latest search video is available to view! 
BRIAN'S YOUTUBE CHANNEL LINK: 
https://www.youtube.com/channel/UCmcn09QqWhHrj-7SGqlUBJQ
CALL BRIAN RUDOLPH WITH THE RING FINDERS AT (301) 466-8644!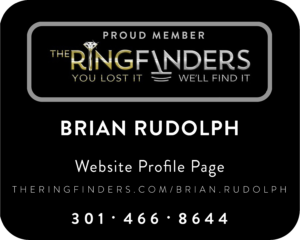 VISIT THE RING FINDER'S WEBSITE TO READ MORE OF BRIAN'S SUCCESSFUL SEARCH STORIES at:
TheRingFinders.com/Brian.Rudolph/
HE WILL RETURN TO YOU WHAT HAS BEEN LOST!
VISIT BRIAN'S BUSINESS WEBSITE FOR ADDITIONAL SERVICES, STORIES AND INFORMATION AT: www.MetalDetectingAdventures.net