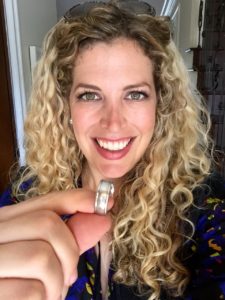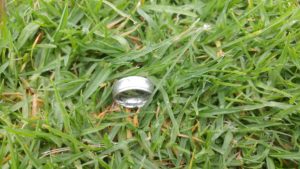 Back on July 15th Joanna sent me a text asking for my help. She and her family had been down at Venice Beach 5 days prior, where her husband had removed his ring to apply sunscreen and laid it in the grass where they were sitting. When they got back to the hotel where they were staying he realized the ring was gone. They called some of the places back on the beach to see if someone could go and find it for them, with no luck. I told Joanna, that in such a public place, with so much time having gone by, that the chances of finding the ring had diminished considerably. I asked her to call me so I could ask her about the loss, when she told me that she and the family had already gone back to their home in Florida. I asked if she could help me narrow down the search area, and she sent me pictures of the place, and where they were sitting when her husband removed the ring; I knew right where the area was, and told her I would go and search the next day.
When I arrived at the spot it turned out to be rather small with good grass growth, so I was a bit hopeful. I began my search, and found numerous items, but all too deep to have been the ring, so I just kept searching. I then received a good shallow signal, and used my pinpointer to verify the signal, and found the ring. Needless to say I was very excited, it was a big solid platinum ring, and I could see the engraving that Joanna had told me about. I took the attached picture, and sent it to Joanna, saying "You'll never believe what was still there after 6 days." She wrote "Oh my God", and "I'm shaking", and I answered that I know, I almost did a dance right there in front of everyone.
She had worked and saved her money to buy that ring for her future husband, so the meaning behind it was deep. I sent it off to her, and when she received it she sent me the attached picture of her and the ring. What she thought was lost forever, was now safely back in their family. I am so happy to have helped them out, and honored that she trusted me, someone she had never met to do this search for her. I was definitely blessed to receive a picture like this with a great and happy smile. Joanna posted the story on Facebook, and it went viral. Attached are some links to news features that have aired and articles that have been published regarding this recovery.
Recovery Of Lost Wedding Ring Restores Florida Couple's Hope In Humanity
http://www.sun-sentinel.com/news/palm-beach/boca-raton/fl-boca-raton-lost-ring-craigslist-20160720-story.html
http://www.palmbeachpost.com/news/news/local/boca-family-recovers-wedding-ring-lost-on-la-beach/nr3sw/
If you lose your ring or other metal item of value, don't buy a metal detector or rent a metal detector, but call one of the members of this directory. Look at the different metal detecting Ring Finder blogs and read their success stories, then call them ASAP, and they will work hard for you to find what you thought might never be found again.
I search, Cabrillo Beach, Hermosa Beach, Huntington Beach, Long Beach, Malibu, Manhattan Beach, Newport Beach, Redondo Beach, Santa Monica, Seal Beach, Torrance Beach, Venice Beach, and all parks, yards, gardens, and ponds (to 5 foot depths) in Orange County and Los Angeles County.