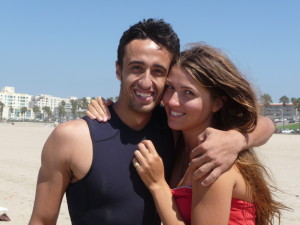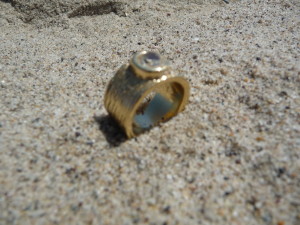 I was out practicing my detecting on one of the local beaches when I received a call from Sam regarding the loss of his fiance's engagement ring in the surf. I had been watching the waves today, and there was some good sized surf. When he told me that the loss was in the water, knowing the conditions, my heart sank a bit realizing it could be a challenging hunt. When he told me she had only been about knee to thigh deep, I felt better, as I knew the tide had begun to go out.
When I got to the spot, and met Sam and his fiance Tanya, I began my series of questions, like where were you, how far out were you, and what were you doing at the time of the loss, was it a light ring or a heavy ring. When Sam told me it was a heavy ring I felt more assured of a possible recovery because the sand underfoot was soft, and the ring would have sunk into the sand as soon as it hit instead of moving around with the wave action. I began my search, going out up to my chest to make sure I covered the most amount of area. I made two passes, when my Excal 2 sang out with a very familiar tone. One scoop and I had the biggest ring I think I have found so far, when Sam said heavy, there was no exaggeration in what he said.
I held up the ring, and when Tanya saw it there was a flood of emotion, jumping up down, big hugs to go around. Sam then explained the significance of this ring. This is a ring the he made with his hands for his bride to be. He even cut the facets in the diamond from a rough cut stone. The stone even reflected an image of their heritage and faith, something I have never seen. I told Sam that God had a part in this stone's creation. This is a ring he made specifically for Tanya his bride to be; irreplaceable! They are scheduled to be married in a few months. Wow what an honor I felt to be able to hand this back to her.
When we were in the parking lot talking we found that we shared the same faith, and had a great time of fellowship there. Before we left for the day Tanya thought a prayer would be a good thing at that moment, so she prayed for us all, and for me and my family. I must say, I am not sure who went away today most blessed, because I was surely blessed in the highest sense. Aren't those great smiles on that couple?
If you lose your ring or other metal item of value, don't buy a metal detector or rent a metal detector, but call one of the members of this directory. Look at the different metal detecting Ring Finder blogs and read their success stories, then call them ASAP, and they will work hard for you to find what you thought might never be found again.
I search, Cabrillo Beach, Hermosa Beach, Huntington Beach, Long Beach, Malibu, Manhattan Beach, Newport Beach, Redondo Beach, Santa Monica, Seal Beach, Torrance Beach, Venice Beach, and all parks, yards, gardens, and ponds (to 5 foot depths) in Orange County and Los Angeles County.
One Response to "Hand Made Engagement Ring Lost at Santa Monica Beach, CA…Found."