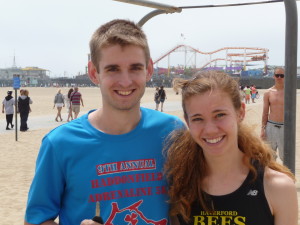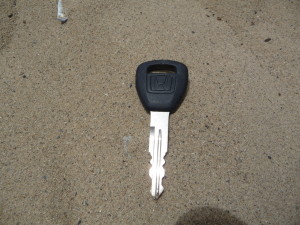 I received a call yesterday from Kelly, saying she had lost her car key at the beach. I told her I would be there in an hour, and headed out. When I got to the site Kelly and her friend Eric showed me the general area where they thought the key had been lost. At that time I began to ask them questions, going through a logical progression in order to narrow down the search area. Because searching the right way with a metal detector is a very slow and methodical process, it is important for us to probe as much as possible to see if we can pinpoint the search area. Sometimes the person may have thought it was lost in one place, but as I question, I can figure that it was in another area, so questioning is a very important part of our searches. I am thankful Kelly and her friend were patient with me.
After my questioning, I figured out that it was under the parkour bars that Eric had been using, and it took all but about 3 minutes of searching to find the key. They were happy, because they had a way to go to get home, and everything was in the car. I am so glad to have met them, and made their day.
If you lose your ring or other metal item of value, don't buy a metal detector or rent a metal detector, but call one of the members of this directory. Look at the different metal detecting Ring Finder blogs and read their success stories, then call them ASAP, and they will work hard for you to find what you thought might never be found again.
I search, Cabrillo Beach, Hermosa Beach, Huntington Beach, Long Beach, Malibu, Manhattan Beach, Newport Beach, Redondo Beach, Santa Monica, Seal Beach, Torrance Beach, Venice Beach, and all parks, yards, gardens, and ponds (to 5 foot depths) in Orange County and Los Angeles County.
One Response to "Lost Key at Santa Monica Beach, CA…Found."