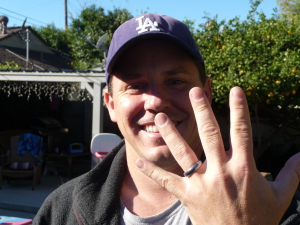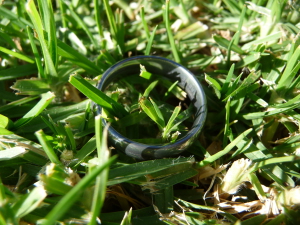 I received a call from Christian yesterday in the evening after he and his wife had searched for his wedding ring, lost in their back yard. I arranged to meet him today, knowing the ring was not going anywhere, being that it was his yard, which took away the immediacy of the search. Christian had been in the yard with his children, and their newly acquired rescue dog. The dog had a habit of jumping up on people, and while they were in the yard he began to jump on his children. Christian then tried to get the very powerful dog to stop. He put his hand down to push him away from his children, and the dog moved in such a way that his movement caused Christian's ring to pop off of his hand and into the grass. He saw the direction of where the ring landed, and they searched. The problem was that there was a good thatch in the grass which made it thick, and it swallowed the ring as soon as it hit. I got to the site, and got to searching. It took a couple of passes beginning a grid to insure that the whole area would be covered, and the ring was found very close to where Christian had thought it would be. He had told me how he and his wife had gotten very emotional over the ring's loss, so it was a great pleasure to see his joy returned when I handed his ring back to him. When I watched Christian put his ring back on, I wondered how this encounter with his dog could have made this possible, because it seemed to be very tight on his finger. I then got to meet the culprit in this loss, a sixty pound, solid muscled pit bull terrier with a sweet disposition and a lot of energy, and was glad I did not wear my ring when I pet him. I am glad to have been able to sweeten this family's Christmas this year.
If you lose your ring or other metal item of value, don't buy a metal detector or rent a metal detector, but call one of the members of this directory. Look at the different metal detecting Ring Finder blogs and read their success stories, then call them ASAP, and they will work hard for you to find what you thought might never be found again.
I search, Cabrillo Beach, Hermosa Beach, Huntington Beach, Long Beach, Malibu, Manhattan Beach, Newport Beach, Redondo Beach, Santa Monica, Seal Beach, Torrance Beach, Venice Beach, and all parks, yards, gardens, and ponds (to 5 foot depths) in Orange County and Los Angeles County.