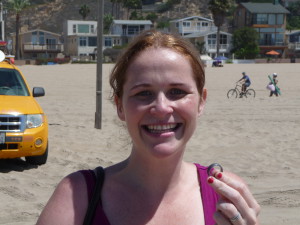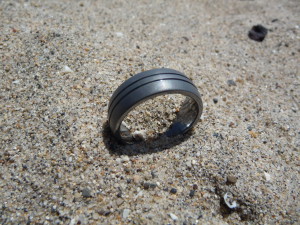 I received an email from Laura this morning regarding her husband's lost wedding ring. They had been to the beach last night enjoying the warm night air, and having dinner. Her husband started digging in the sand, and soon realized his wedding ring was missing. They had gotten married two years ago, and honeymooned in Ireland. They were enjoying themselves when due to circumstances beyond their control, they had to abandon their original itinerary, and ended up in a small hamlet somewhere in Ireland. It was there where they met a jeweler in a small shop who took a liking to the newlyweds, and offered to engrave a special message of love on the inside of each ring in Gaelic. A ring with a story like this is irreplaceable, and therefore is priceless. We arranged to meet at the beach at about noon. When I got there, and she showed me the area of the loss, I set up and began my grid. I worked one way towards where they began, and then worked back picking up numerous bits of trash. It was then I heard the sound of something good in my earphones. I was able to give Laura back her husband's ring after about 20 minutes. It was wonderful to see such joy return to Laura, and her husband through the text he sent to her when he saw the picture of his ring. Awesome day, the story of the ring continues.
If you lose your ring or other metal item of value, don't buy a metal detector or rent a metal detector, but call one of the members of this directory. Look at the different metal detecting Ring Finder blogs and read their success stories, then call them ASAP, and they will work hard for you to find what you thought might never be found again.
I search, Cabrillo Beach, Hermosa Beach, Huntington Beach, Long Beach, Malibu, Manhattan Beach, Newport Beach, Redondo Beach, Santa Monica, Seal Beach, Torrance Beach, Venice Beach, and all parks, yards, gardens, and ponds (to 5 foot depths) in Orange County and Los Angeles County.
2 Responses to ""Priceless" Tungsten Wedding Band Lost at Playa Del Rey Beach, CA… Found"