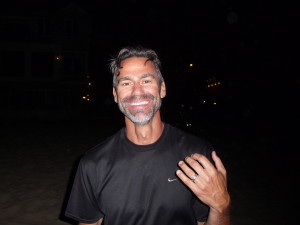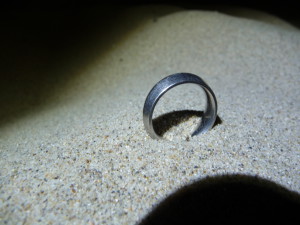 I had just finished dinner when I received a phone call  at about 8:00 PM from Jeff. He had been at the beach playing volleyball, and not wanting to lose his rings, he put them in his shirt which he placed on his beach chair. It wasn't until he went back to sit down and rest that he realized someone had moved the chair about 10 feet from its original location. The first thing he did was look for his rings, and found one, the other had fallen into the sand, and so began his search. He and his friends looked and looked for the ring, and could not find it. I told him I would get there right away, so they waited until I arrived. They showed me the area, and Jeff pointed to the area the chair had been moved to thinking that would be the place. I began my grid, and slowly worked my way to the area the chair had been moved to, and right in front of the chair was where I found Jeff's ring. In 10 minutes, I was able to hand his ring back. He will be able to sleep well tonight. It was nice that Jeff's friends waited with him until the ring was found, so we all celebrated together; a lot of "high-fives" going around.
If you lose your ring or other metal item of value, don't buy a metal detector or rent a metal detector, but call one of the members of this directory. Look at the different metal detecting Ring Finder blogs and read their success stories, then call them ASAP, and they will work hard for you to find what you thought might never be found again.
I search, Cabrillo Beach, Hermosa Beach, Huntington Beach, Long Beach, Malibu, Manhattan Beach, Newport Beach, Redondo Beach, Santa Monica, Seal Beach, Torrance Beach, Venice Beach, and all parks, yards, gardens, and ponds (to 5 foot depths) in Orange County and Los Angeles County.
2 Responses to "Platinum Wedding Band Lost at Manhattan Beach, CA…Found"