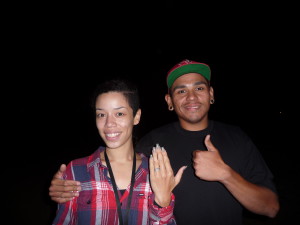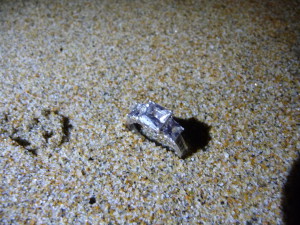 I received a call from Kellie last night at about 6:30 about losing her ring in the surf at the beach. She explained how this ring had an extreme sentimental value to her because of personal circumstances in her family. Well I looked at the tide charts, and realized that it would not be good to go at that time because the tide was rising, but arranged to meet her and her husband Anthony at the beach this morning, at 12:00 AM. We got to the spot, and Kellie had told me how the current was very strong when she went in. She had been about waist deep when the ring came off, so I knew that with the lower tide, and the weight of the ring, I would be able to get into the area the ring had settled in. They had a real good idea where the ring was lost, and even had a landmark (someone had dug a hole in the sand), from which I began my search at about 12:15 AM. I know this beach, and the current flows like a river that runs parallel to the beach with such power that it is hard to stand against it at times. I began my search working up and down the slope, and off into the direction the current was flowing, figuring the ring would have been carried in that direction as it sank. Well about 45 minutes later, I received a good signal down at the water's edge, and in one scoop had her ring. They had gone to the lifeguard tower to wait, and as I walked up the beach I saw Kellie jump down and hurriedly come my way in the darkness. She was overwhelmed with joy at the sight of the once lost ring, and she and her husband were so thankful. What a pleasure it was to be able to return this joy to them. Kellie was referred to me by Stan Ross (fellow Ring Finder).
If you lose your ring or other metal item of value, don't buy a metal detector or rent a metal detector, but call one of the members of this directory. Look at the different metal detecting Ring Finder blogs and read their success stories, then call them ASAP, and they will work hard for you to find what you thought might never be found again.
I search, Cabrillo Beach, Hermosa Beach, Huntington Beach, Long Beach, Malibu, Manhattan Beach, Newport Beach, Redondo Beach, Santa Monica, Seal Beach, Torrance Beach, Venice Beach, and all parks, yards, gardens, and ponds (to 5 foot depths) in Orange County and Los Angeles County.
4 Responses to "Platinum Engagement Ring Lost at Sunset Beach, CA…Found."