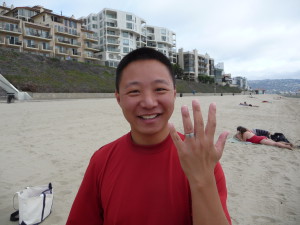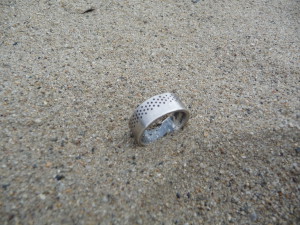 I had been out metal detecting Huntington Beach, CA, and was on my way home when I happened to return a call I had received while my earphones were on. I contacted James, and he told me how he had been out for a swim yesterday, and was coming to shore when the wave action in the shore break caused his ring to slide off. In a panic he searched for next couple of hours to no avail. He said he came back today and searched some more, but began to think it was an exercise in futility. James then turned to the internet, and found TheRingFinders.com, where he found my blog. It was perfect, I had my equipment with me, so I made a bee line to Redondo Beach. When I arrived James showed me where he remembered coming out of the water. I put my waders on because I figured I would be getting wet. I made three passes, in and out of the water, and caught a signal right at the edge of the water and sand when the wave receded, and in two scoops I had this great looking ring in my scoop. James was overwhelmed, because he really thought his ring was gone for good; he even told me his wife had called the jeweler who had created this one, and ordered another. Well it certainly was a pleasure to see such joy, and get a big hug from James. Another great day!
If you lose your ring or other metal item of value, don't buy a metal detector or rent a metal detector, but call one of the members of this directory. Look at the different metal detecting Ring Finder blogs and read their success stories, then call them ASAP, and they will work hard for you to find what you thought might never be found again.
I search, Cabrillo Beach, Hermosa Beach, Huntington Beach, Long Beach, Malibu, Manhattan Beach, Newport Beach, Redondo Beach, Santa Monica, Seal Beach, Torrance Beach, Venice Beach, and all parks, yards, gardens, and ponds (to 5 foot depths) in Orange County and Los Angeles County.
2 Responses to "Custom Palladium Wedding Ring Lost at Redondo Beach, CA…Found."