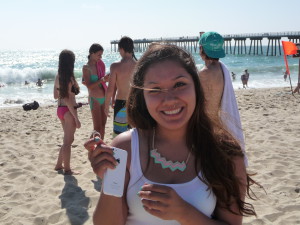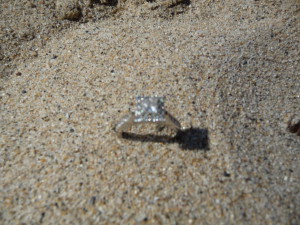 Lesley called me this afternoon to ask if I would be able to help her find her engagement ring. She was at one of our local beaches which was about 30 minutes away. The problem was she had to board the bus for the long ride home in an hour. I threw my equipment in the truck and headed for the beach as quickly as I could. I was able to find parking close to the area she was in, and was at the site in about 35 minutes. After going over what had happened (putting on sunscreen, and taking the ring off to do so), I was able to estimate where the beauty was going to be. Within about 5 minutes, I was able to hand Lesley's ring back to her. A great smile appeared, and when I looked around there were smiles everywhere. There was a whole group of young people that were aware of Lesley's predicament, and when the ring was recovered all came around to express their joy as well. When all was finished Lesley still had about 15 minutes to get to the bus for her ride home. A lot of smiles today; what a great day!
If you lose your ring or other metal item of value, don't buy a metal detector or rent a metal detector, but call one of the members of this directory. Look at the different metal detecting Ring Finder blogs and read their success stories, then call them ASAP, and they will work hard for you to find what you thought might never be found again.
I search, Cabrillo Beach, Hermosa Beach, Huntington Beach, Long Beach, Malibu, Manhattan Beach, Newport Beach, Redondo Beach, Santa Monica, Seal Beach, Torrance Beach, Venice Beach, and all parks, yards, gardens, and ponds (to 5 foot depths) in Orange County and Los Angeles County.
4 Responses to "Princess Engagement Ring Lost in Hermosa Beach, CA…Found and Happily Returned"